So, they're looking for new ways to protest
Their schools and streets empty, teen climate activists find new ways to strike

It was supposed to be the spring that launched Sophia Kianni's climate career.

She had eight speaking engagements lined up at big-name universities — Stanford, Princeton, Duke. She had a 35-minute presentation prepared, explaining how concern for family in polluted Iran inspired her climate activism. She even had outfits: a favorite was the knee-length white skirt, paired with a green sweater and matching white blazer.

Then came the virus.

"Within a week, basically every single thing I had planned for got canceled," said Kianni, 18. That included a speech at a Smithsonian museum in the District, a roughly 30-minute drive from her home in McLean, Va.
Aw, what a shame. People getting sick and dying is just so inconvenient for her, along with this whole economic collapse. Anyhow, was she going to get paid for those speaking engagements? If not, then it isn't a career. It's not even a side hustle. Further, why should anyone listen to Sophie? She hasn't graduated high school, has no degree in any sort of science, and her claim to fame is confronting people after taking a fossil fueled trip to D.C.
The coronavirus pandemic is threatening protest movements in countries ranging from Hong Kong to Lebanon to Chile, halting pushes to expand civil rights, topple authoritarian leaders and fight sexual harassment.

But it poses particular challenges for teen climate activists, who built a movement around the act of skipping school on Fridays and parading through streets in a highly visible show of rage.
Apparently, all those concerned with authoritarian leaders, civil rights, and sexual harassment should take a back seat to high school kids worried the climate change scam.
"Usually, climate activism for me, would be to go out and act what I think," said Erik Christiansson, 15, who has organized marches in his hometown Soest, in the Netherlands. "Now we can't go out together, and even if we did, no one would see it."

Everyone Christiansson knows is obeying "stay-at-home" orders adopted by cities, states and nations across the globe. Some advocates have left the movement altogether, forced to prioritize family, health or financial concerns.

"It felt," Kianni said, "like our movement was being taken away."
Sniffle. This is what happens when the real world and its concerns put the kibosh on interests by 1st Worlders who live good lives, so they have to make up something to be mad about.
Iris Zhan quickly saw possibilities in the upheaval.

Zhan, 16, attends River Hill High School in Clarksville, Md. She started pondering how to shift the climate movement online more than a year ago, when she wanted to participate in the Friday strikes but feared retribution from her school.

She connected with another student, George Zhang, whose school in California has similarly harsh rules about unexcused absences. Last year, they launched a virtual strike for students unable or unwilling to skip class. "#DigitalStrike," she and Zhang called it. They asked participants to post pictures with climate slogans ahead of class on Fridays. Each week, she and Zhang combined all of the photos into a collage.
OK, so this is where they're going with the story. Posting pictures with signs and stuff. Basically not that much different from what they do anyhow, but, instead of sexy selfies they post pithy messages, while still refusing to give up their own big carbon footprint lives.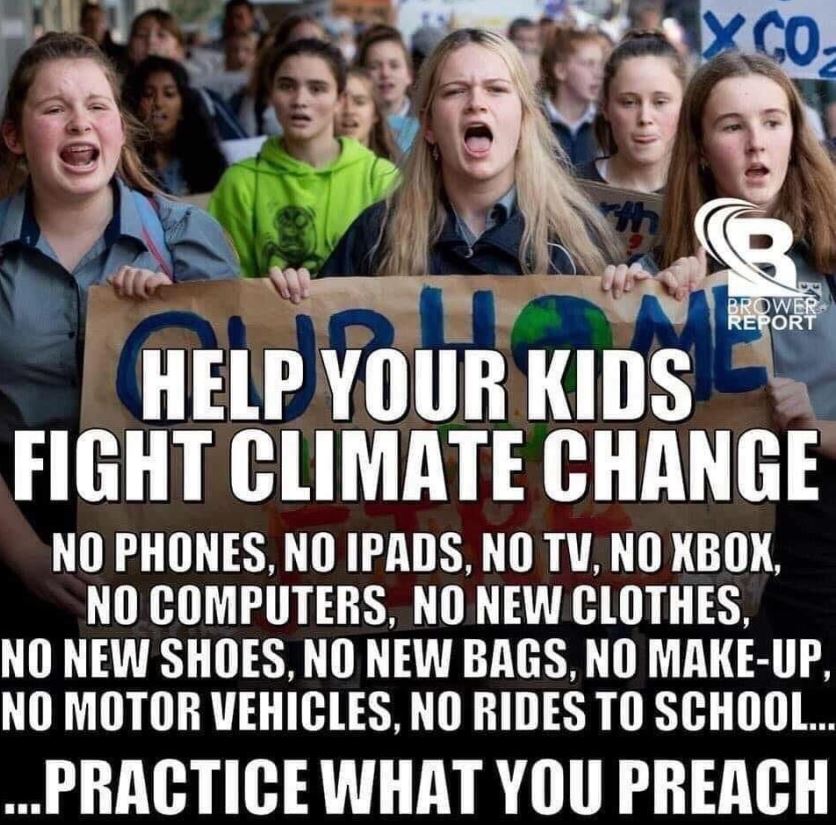 If you liked my post, feel free to subscribe to my rss feeds.