A holiday is approaching, so, it's time for the climate nags to nag
Stop Decorating Your House For Halloween Unless You Want The REAL Scary Monster To Appear

The 20th of September this year was a good day for the spirit. Even old cynics like me felt a tiny ebb of hope as we watched hundreds of thousands of people taking to the street and marching to deliver a message to the government about how strongly we feel about climate change and a secure future for our children and our planet.

My soul was fed by the visions of young kids marching with posters painted by young hands, by parents marching on behalf of their children's futures and by businesses committing themselves to actually making a difference.

But September quickly turned to October and as the threats against Greta Thunberg stopped making headline news, the spirit of consumerism started to take over from the health of the planet.

The shops started to flog Halloween paraphernalia and reinforced that the only way to celebrate this ancient Celtic festival it is to decorate. This in spite of the fact the Celts didn't actually decorate their homes, they tended to light bonfires and dress up to scare away the ghosts. But, I realised when I protested against ghoulish plastic decorations on my Facebook page, people believe decorating their houses for Halloween is a right and a tradition they feel threatened about losing.
And we get this from the author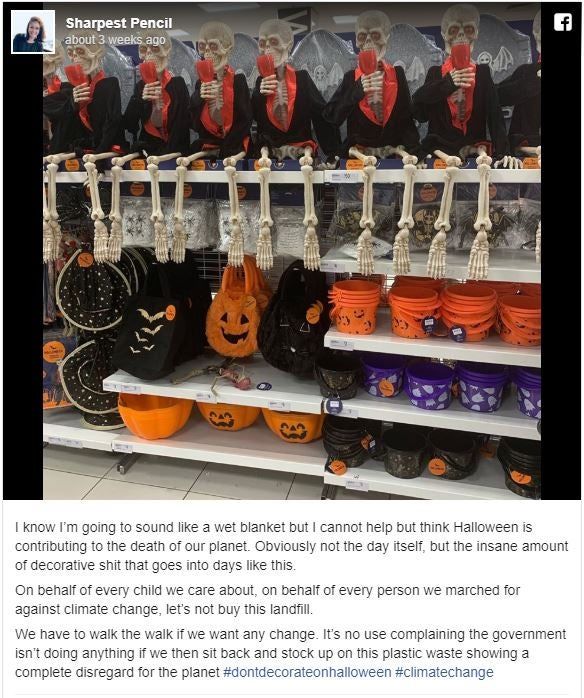 Then we get a lot of whining about consumerism, which is the main point, namely, that people buy stuff to decorate for Halloween (and this screeching screed even touches on Christmas)
Simmering in my plastic pumpkin induced rage I took time out to reflect on whether I was overreacting to Halloween decorations. Maybe it's just because I don't celebrate it. Maybe I was coming to this debate with my own filter of fear over the production and disposal of unnecessary junk, and yes I realise that's a loaded word because some people believe deeply in their right to decorate on Halloween.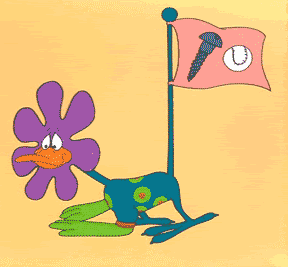 If you liked my post, feel free to subscribe to my rss feeds.