This is one you're going to see/hear a lot of from the Credentialed Media. I ran across it at The Hill, and there are a bunch of other Democrat leaning news outlets yammering about. Let's go to the source, USA Today
Perilous times for Trump: By 45%-38%, Americans support impeaching him over Ukraine allegations, poll finds

Americans by a 45%-38% plurality now support a vote by the House of Representatives to impeach President Trump, a USA TODAY/Ipsos Poll finds, as allegations continue to swirl around an embattled White House.

By a similar margin, 44%-35%, those surveyed say the Senate, which would then be charged with holding a trial of the president, should convict Trump and remove him from office.

The survey of 1,006 adults, taken Tuesday and Wednesday, underscores the perilous situation the president finds himself in as House committees subpoena documents and prepare to hear testimony into accusations that he pressured the leader of Ukraine to investigate a political rival, then tried to hide the account of their phone conversation.
You can dig into the poll, from the topline to the full details, at the survey link. Let's take a look at the topline page 5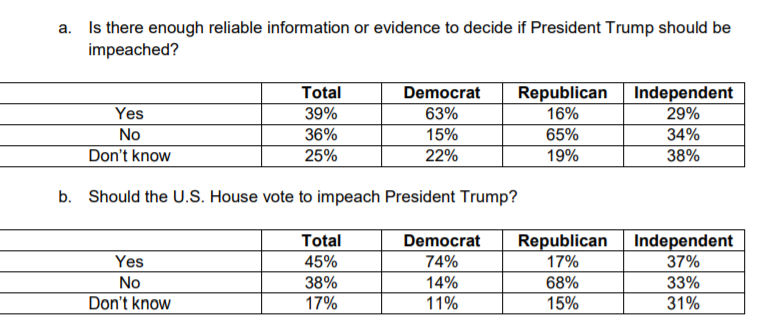 While it's interesting that 45% want the House to impeach Trump (with 38% saying no and 17% unsure), they aren't really getting the Independents, with 64% saying no or don't know. More interesting is that first question with only 39% saying there's enough evidence to actually impeach, with 61% saying not or don't know. Even 22% of Democrats don't know. And those are not good numbers for Independents supporting the Democrats.
The survey includes some cautionary notes as well for Biden, the Democratic frontrunner for the presidential nomination to challenge Trump next year. By 2-1, 42%-21%, those polled say there are valid reasons to look at the behavior of Joe and Hunter Biden in Ukraine. Even one in four Democrats say an investigation would be legitimate; two-thirds of Republicans agree. Joe Biden was the Obama administration's point person on Ukraine; his son pursued lucrative business arrangements there.

There has been no evidence of wrongdoing by either Biden, though Trump on Wednesday accused them both of being corrupt.

Watch those last two: people are going to want to know more about Joe Biden's dealings on behalf of his son, and there is more than enough to think it was corrupt (here's one link, you can find plenty out there, and some claim illegal actions, not just corruption). And as more information comes out, the witch hunt belief will rise.

If you liked my post, feel free to subscribe to my rss feeds.