You know it's summer, because the Cult Of Climastrology ramps up the doomy prognostications and such from Unhinged to Deranged. And this is a new one
'Climate apartheid': UN expert says human rights may not survive

The world is increasingly at risk of "climate apartheid", where the rich pay to escape heat and hunger caused by the escalating climate crisis while the rest of the world suffers, a report from a UN human rights expert has said.

Philip Alston, UN special rapporteur on extreme poverty and human rights, said the impacts of global heating are likely to undermine not only basic rights to life, water, food, and housing for hundreds of millions of people, but also democracy and the rule of law.

Alston is critical of the "patently inadequate" steps taken by the UN itself, countries, NGOs and businesses, saying they are "entirely disproportionate to the urgency and magnitude of the threat". His report to the UN human rights council (HRC) concludes: "Human rights might not survive the coming upheaval."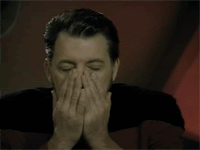 All that because of a tiny 1.5F increase in global temperatures since 1850.
Alston's report on climate change and poverty will be formally presented to the HRC in Geneva on Friday. It said the greatest impact of the climate crisis would be on those living in poverty, with many losing access to adequate food and water.

"Climate change threatens to undo the last 50 years of progress in development, global health, and poverty reduction," Alston said. Developing countries will bear an estimated 75% of the costs of the climate crisis, the report said, despite the poorest half of the world's population causing just 10% of carbon dioxide emissions.

"Yet democracy and the rule of law, as well as a wide range of civil and political rights are every bit at risk," Alston's report said. "The risk of community discontent, of growing inequality, and of even greater levels of deprivation among some groups, will likely stimulate nationalist, xenophobic, racist and other responses. Maintaining a balanced approach to civil and political rights will be extremely complex."
But, hey, if we give up all our liberty and money to the U.N. they can save us, right?
"When Hurricane Sandy wreaked havoc on New York in 2012, stranding low-income and vulnerable New Yorkers without access to power and healthcare, the Goldman Sachs headquarters was protected by tens of thousands of its own sandbags and power from its generator."
Weird how government, which the Warmists want to give even more power and money, wasn't able to protect anyone. Oh, and city hall and government properties were protected. Guess they are the evil rich? BTW, Sandy wasn't a hurricane when it made landfall, and, there has been no repeat of the storm, despite them telling us this was the new normal.
But, hey, climate apartheid. Doom.

If you liked my post, feel free to subscribe to my rss feeds.