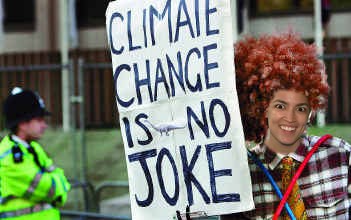 Would this be the same Green New Deal that Alexandria Ocasio-Cortez refuses to demand get a House floor vote? The same one which she and Democrats threw a fit over having a vote on it in the Senate? The one that zero Senate Democrats voted for, instead voting "present" (except for the few who voted "no")? And aren't these two people who use vast amounts of fossil fuels to travel around?
Bernie Sanders to join AOC at Green New Deal rally in DC

Sen. Bernie Sanders will join Rep. Alexandria Ocasio-Cortez at a rally next week sponsored by a group of young activists in D.C. to promote a Green New Deal.

Sanders, I-Vt., a 2020 presidential candidate, will headline the Sunrise Movement's final stop of its "Green New Deal Tour" on Monday night at Howard University, the group announced Saturday.

BIG NEWS: @SenSanders is joining us Monday with @AOC, @SenMarkey, and more for the final #Road2GND tour stop in DC where we'll launch the next phase of the #GreenNewDeal campaign. https://t.co/SeYQxPolBT

— Sunrise Movement 🌅 (@sunrisemvmt) May 11, 2019

Sunrise has also pressured 2020 presidential candidates to pledge to reject donations from fossil fuel interests, as Sanders has.
So, they won't take donations but they'll use a ton traveling around the nation to mostly Democrat voting areas? Is that correct?
Sanders has associated himself with Sunrise and endorsed the Green New Deal, although he has not yet released a detailed climate change policy such as Democratic rivals Washington Gov. Jay Inslee and former Texas Rep. Beto O'Rourke.
His website currently has just a few talking points, most aimed at fossil fuels, including natural gas. Will he come out with a deeper plan, like for 2016, when he wanted to "bring climate deniers to justice", a call that treats people who do not toe the Cult of Climastrology line like terrorists?
There is no "middle ground" when it comes to climate policy. If we don't commit to fully transforming our energy system away from fossil fuels, we will doom future generations. Fighting climate change must be our priority, whether fossil fuel billionaires like it or not.

— Bernie Sanders (@BernieSanders) May 10, 2019
The middle ground is a shot at Joe Biden, but, how would we get rid of fossil fuels when Democrat Believers refuse to give up their own use of them? Meh, we all know they're hypocrites.

If you liked my post, feel free to subscribe to my rss feeds.