If you'll hearken back to a UK Guardian article about selfie madness in national parks, about how people taking selfies are ruining the parks and ruining the experience for others. And, no matter how far left the UK Guardian is, they are exactly correct. Too many are going to beautiful places not to enjoy them, but simply to get a selfie saying they were there. It included the quotes "People don't come here for solitude. They are looking for the iconic photo" and "Most visitors just don't know how to behave in a wild place." Again, it is well worth reading the entire very long article. And now we have
#Superbloom or #poppynightmare? Selfie chaos forces canyon closure

This weekend thousands of tourists frolicked through fields of poppies in southern California, posting photos tagged #superbloom. But for the town of Lake Elsinore, the influx of visitors quickly became a #poppynightmare.

Nestled in the hills of western Riverside county, Lake Elsinore ground to a halt when at least 50,000 people flocked to the area, trampling flowers and creating hours-long traffic snarls on Interstate 15 and city streets around the trailhead. Things got so bad that the town was forced on Sunday to bar access to Walker Canyon, one of the most popular sites for poppy seekers.

"This weekend has been unbearable in Lake Elsinore," the city wrote on its Facebook and Instagram pages, adding the hashtag #poppynightmare. "We know it has been miserable and has caused unnecessary hardships for our entire community."

Social media is being partly blamed for the super bloom bonanza, with thousands of photos pouring on to Instagram over the weekend. Some of the most popular posts soon drew critical comments: "Trampling the flowers for a photo? Now they shut it down," wrote one user. "Not worth it for a pic."

Meanwhile Lake Elsinore's mayor, Steve Manos, has been on a social media blitz of his own, posting regular Facebook video updates on what he dubbed "poppy-palooza". They show bumper-to-bumper traffic and cars illegally parked on the highway, as well as offering advice for how visitors can avoid the crush.
It looked gorgeous
So hard to focus on dissertation writing with SoCal #SuperBloom in full glory! #naturemagic #flowerpeeping pic.twitter.com/71uUJqyIoQ

— Joan Dudney (@dudney_joan) March 18, 2019
Wow, right? And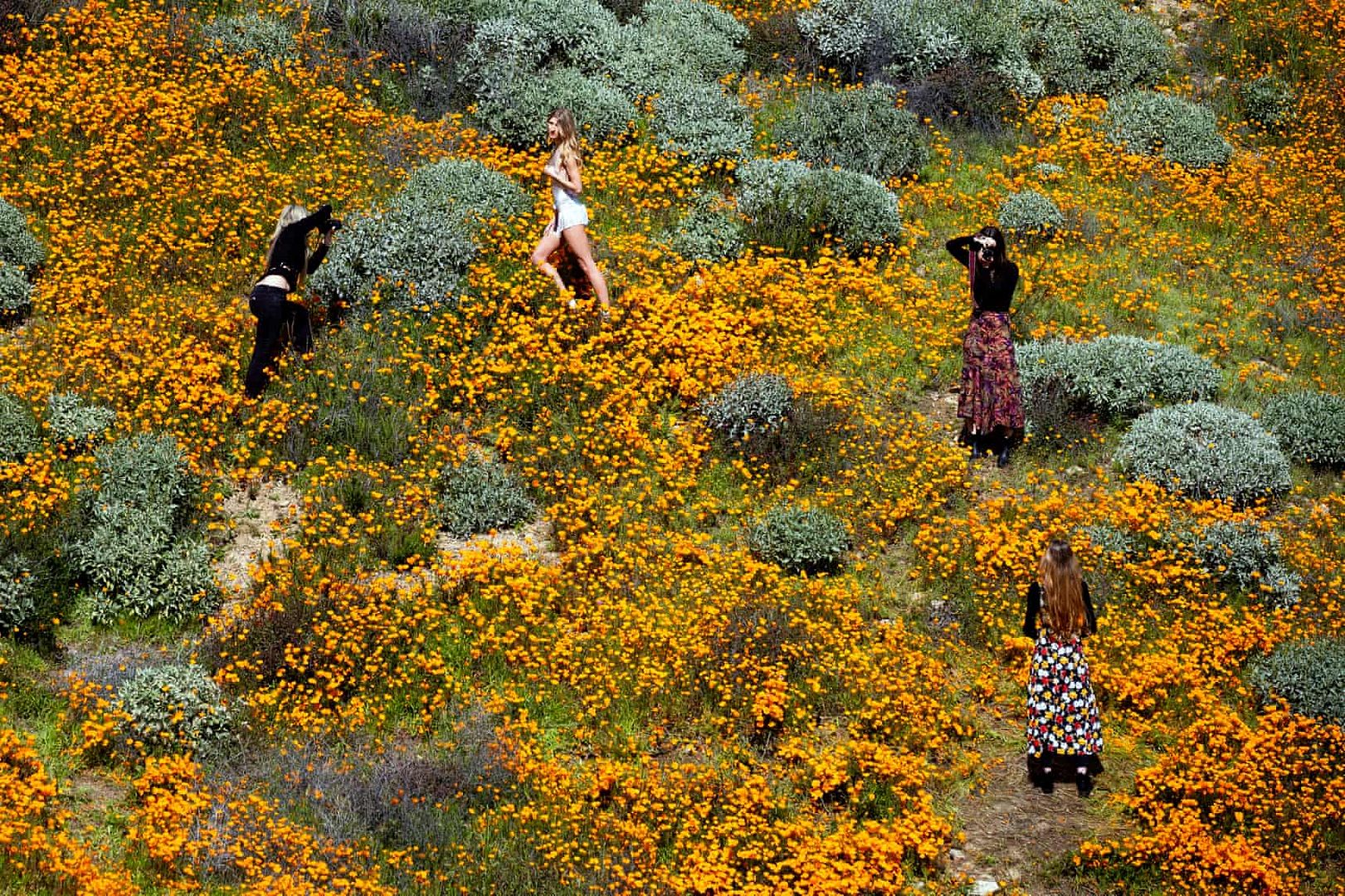 And throughout Twitter there are people post their photos of themselves, and surely on Instagram and Facebook. Did they even enjoy it?

If you liked my post, feel free to subscribe to my rss feeds.