This would negatively impact the criminals who use firearms how, exactly? Those few nutjobs hell bent on creating a mass shooting situation won't care, most seem to not expect to live. Your average criminal won't care, because they're surely stealing ammo and/or the money to buy it. This is aimed squarely at the law abiding citizens who hunt, shoot for sport, and want to protect themselves and their loved ones. Funny how everything Democrats propose is about causing issues to the law abiding, eh? (via Twitchy)
I've introduced HB 5700, a 50% tax increase on ammunition. It doesn't apply to military or law enforcement. I'm hearing push back about the need to protect one's home… but how much ammunition does someone really need to do that? #gunsense #enough pic.twitter.com/NZjkWBrpjC

— Jillian Gilchrest (@Jilchrest) February 4, 2019
How much ammo law abiding citizens have is none of her business. Kerfuffle Actual tweeted "I know this is hard to wrap your head around, but people need lots of ammunition *to practice shooting* so that if they do have to protect themselves, they manage to shoot straight." Jarod wrote "How much ammo does one need for home defense? American police officers (who are thoroughly trained with firearms, I might add) only hit their target about 20-30% of the time. Think about that. Quit disregarding the Constitution."
Others point out that people will just drive to other states to purchase. Not hard to leave Connecticut, is it?
But, it's not really a 50% tax increase. It makes the tax rate 50%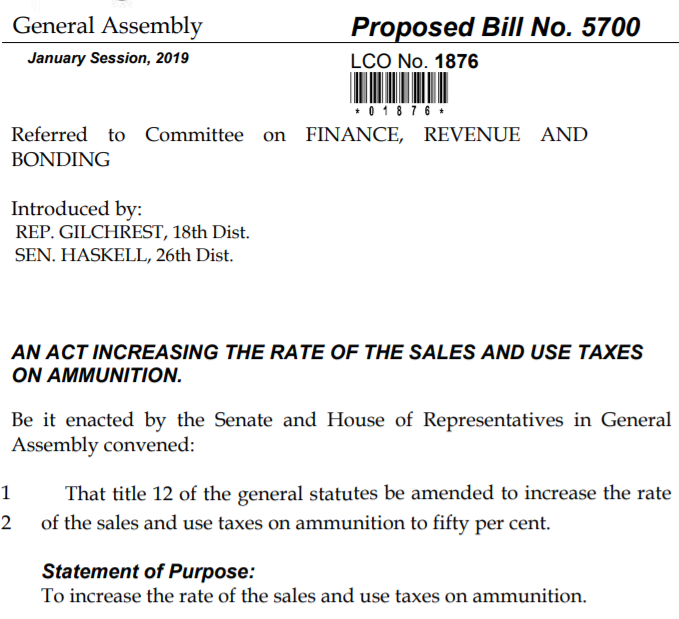 There's a pretty big difference in going from the state sales tax of 6.35% to 9.525%, which is a 50% increase, and making the sales tax 50%. Instead of paying a few extra cents on a box of ammo, you'll be spending dollars. Which adds up.

If you liked my post, feel free to subscribe to my rss feeds.