Have you heard of the term "sanctuary businesses" yet? Perhaps it's something we should be paying attention to, along with sanctuary jurisdictions
(LA Times) As part of its tough stance against illegal immigration, Texas has been one of the few states requiring state agencies to use a federal system known as E-Verify to check job applicants.

The system checks Social Security numbers to make sure a prospective employee can legally work in the U.S.

But despite the state's determined use of technology, it has no one in charge of making agencies comply with the law. It also does not require private employers to use the system if they are not working with the state.

And that, some immigration experts say, highlights a flaw in how states and the federal government combat illegal immigration. (snip)

Some immigrant rights activists complain that governments, though eager to target workers in the country illegally, protect the employers who hire them. Texas Democrats have come up with a term to describe this situation — a twist on the phrase "sanctuary cities" — that JoAnn Flemming, executive director of the conservative group Grassroots America, says she can agree with.

"It's called 'sanctuary businesses/industry,'" she said. "That makes a lot of Republicans mad when you use that term, but the fact of the matter is that there is a strong cheap labor lobby in Texas, and they give a lot of money to candidates and they have a lot of influence."
Ms. Flemming has a point, and it's a darned good one. Why are the companies and governments who hire illegal aliens given a pass? Sure, Los Federales will often raid businesses, but that's coming from separate agencies. The federal government requires all contractors to us E-Verify. Some states require everyone to use it.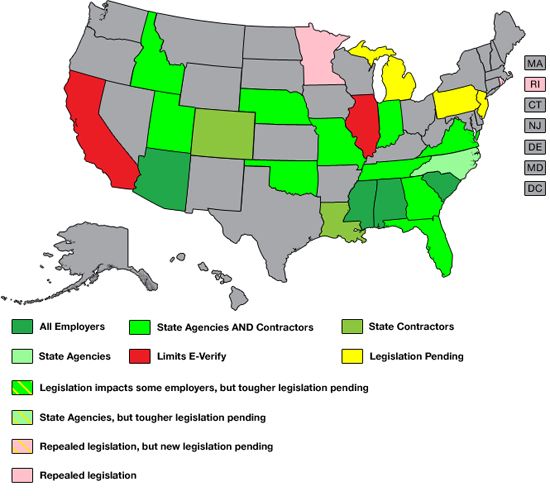 Not much has changed since the map was created back in 2010. California passed AB-1236, which prohibits jurisdictions from passing laws that would require the use of E-Verify. The people even tried to override that with a ballot referendum, but, it didn't make it.
Sen. Claire McCaskill (D-Mo.), of the Senate Homeland Security and Governmental Affairs Committee, has long criticized government officials about the tendency to crack down on people in the country illegally while largely giving a pass to those who illegally hire them.

In March, she questioned the president of the National Immigration and Customs Enforcement Council during a congressional hearing about immigration enforcement.

"Why aren't we going after the employers who are knowingly cheating?" McCaskill asked. "They are in fact a magnet that is in fact helping draw people over the border. I mean, most of these people aren't coming for a vacation. They are coming to try to find work."
Sen. McCaskill has, again, a great point. I've long, long recommended that a primary focus should be on those who hire illegals, along with those who give them shelter. The penalties should be severe and painful (monetarily) to the point that businesses, individuals, and government now, apparently, that no one would hire an illegal unless the illegal completely spoofed the system. Which illegals do, through things like identity theft. But, if everyone did their due diligence in hiring, they would be safe from fines and potential criminal sanctions.
It wouldn't solve everything, but, it would certainly decrease the flow of illegals into the U.S. who are looking to work, as well as cause quite a bit of self-deportation as the jobs dry up.
Crossed at Right Wing News.

If you liked my post, feel free to subscribe to my rss feeds.