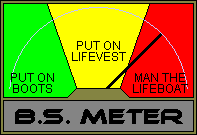 This sounds like a bit of excuse-making, much like we've seen with the Great Pause, the lack of landfalling hurricanes, lack of strong hurricanes, winter weather, and so on. Set the BS Meter to stun
How Sea Ice Can Still Be Thick in Places in a Warming Arctic

It might seem to you that unusually thick local sea ice contradicts scientists' predictions of declining Arctic sea ice cover, but that would be an overly simplistic and incorrect assumption. That misconception of both climate science and the behavior of sea ice has surfaced in the past when polar research vessels encountered difficulties with sea ice, and this time is (sadly) no exception.
What it really proves is that Warmists are part of a cult that bares no resemblance to scientific endevours, but, please, continue
These stories may assume (either implicitly or explicitly) that sea ice conditions are tied directly and simply to global temperature.
Um, that's what we've been told for 25+ years by the Cultists. Is Desmog, as in from Desmog Blog, telling us that the Cultists have been full of mule fritters this whole time?
However, the conditions in any specific location are actually a function of many factors. Trends in polar atmosphere and ocean temperatures do drive long-term changes in sea ice cover (as shown in the video below), but short-term natural variability is very important, just as weather is naturally variable.

Additionally, sea ice is transported around by winds and ocean currents — controlled by persistent regional patterns as well as temporary effects like storms. (See, for example, this recent satellite imagery.)
That sounds dangerously like Desmog is telling us this is all about natural variability. And if NV can make these changes, why can't it be the primary cause for any Arctic melting? Oh, right, you just have to take it on Faith that it's mankind driving in fossil fueled vehicles that's causing the warming, while, when things happen that disagree with the Cultists positions, it's natural variability and totally is utterly in line with their prognostications AND WHY ARE YOU ASKING SO MANY QUESTIONS! LISTEN TO YOUR BETTERS! DON'T QUESTION OUR DOGMA, ER, SCIENCE!

If you liked my post, feel free to subscribe to my rss feeds.