Not according to UAH
(Examiner) Since 1978, satellites have been measuring the Earth's temperature and have given us a snapshot of2015's overall temperature: it's not a record breaker. Not even close. In fact, 2015 didn't even come close to breaking any all-time records, the Daily Caller reported yesterday. Culling data from weather satellites that have been orbiting the Earth since 1978, climate scientists at the University of Alabama/Huntsville (UAH) reported that 2015 has only been the third-warmest year since satellite tracking began.

As for 2015, the temperature was .44 degrees Celsius above the 1981 to 2010 time-frame, it's above-average warmth owed in large part to a naturally occurring El Niño event occurring in the equatorial Pacific Ocean. The last time an El Niño of this magnitude occurred was in 1998, the warmest year in the satellite record. But this current El Niño still ranks third when compared to the ones that occurred since 1950, when recordkeeping began.
Remember, Warmists used to say that satellite data was very, very important in understanding global warming/climate change. Here's what it looks like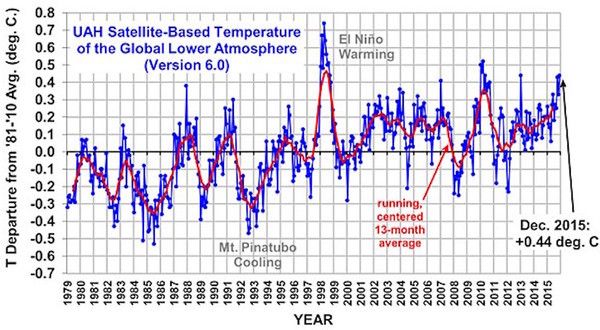 Of course, Warmists will say "look, warming!!!!!!" Here's the thing: it doesn't prove anthropogenic causation. It simply proves warming. Which has occurred multiple times during the Holocene.
Whether 2016 will be a record year is mostly dependent on El Nino. Not you driving your fossil fueled vehicle.
…the upper atmosphere isn't warming up as predicted by the theory of global warming (aka the greenhouse effect). This is an enormous failure and should send climatologists back to the drawing board. If the theory says the upper atmosphere will warm up first, with the surface warming later, it fails. What the satellites are telling us is that the upper atmosphere isn't warming up anywhere near as fast or close to what land-based measurements are telling us.
Might there be other reasons for the land surface readings being above the others? Land use, UHI, improperly sited and compromised measuring stations, and, yes, mucking around with the data.

If you liked my post, feel free to subscribe to my rss feeds.