Gallup is running an article entitled Americans' Desire for Stricter Gun Laws Up Sharply, and liberal gun grabbers (meaning, they want to grab Everyone Else's guns, not their own), are crowing about this. They really love this poll
Fifty-five percent of Americans say they want laws covering the sale of firearms to be stricter than they are now, a distinct rise of eight percentage points from 2014. Fewer Americans than last year want the laws to be less strict, and the proportion who want the laws to stay the same has also declined slightly. (snip)

The rise in the proportion of Americans who want stricter laws on firearm sales can be attributed partly to an increase among certain demographic groups. Support rose among Democrats and especially independents from 2014, and among those who do not personally own a gun. However, support increased even among those who say they own a handgun, from 30% in 2014 to 36% this year.
Here's what it looks like.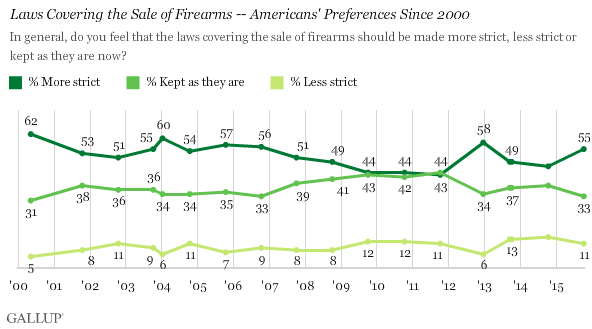 Interestingly, American's have had much higher support in the past. More interestingly, just wanting stricter laws on gun sales doesn't say what should be stricter, or how strict. Personally, I think they should be more strict, in terms of making it much harder to make a straw purchase and knowing if the person has mental health issues that make the person a danger to other people, along with better information when it comes to violent misdemeanor and felony charges. We want to keep guns out of the hands of people who might use them for nefarious purposes.
Of course, what Liberals mean is making it so hard to purchase a gun that people won't. How's that working out in Democratic Party run cities like Chicago, Baltimore, and D.C., among others?
Here's where it gets fun, though, so fun that liberal gun-grabby websites fail to even bother mentioning this part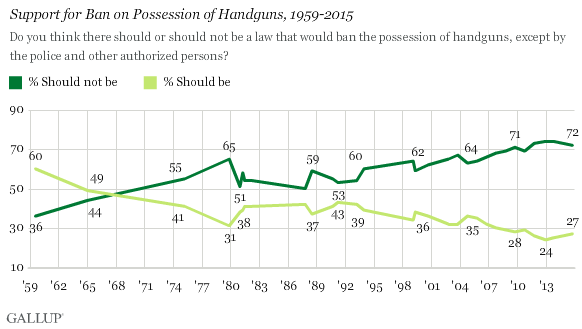 While there's a slight uptick in the number who want civilian ownership of handguns banned, there is still a record level for support for handgun ownership. That's your takeaway from this Gallup poll. Gun grabbers won't care. And they still won't push to enact policies that go after those who illegally possess handguns. Just the law-abiding owners.

If you liked my post, feel free to subscribe to my rss feeds.