Their last chance to get lots and lots of sweet, sweet cash
(AFP) Pacific leaders said Monday that upcoming climate talks in Paris are the last chance for the world to reach an agreement that can save their vulnerable island nations.

The leaders of the six smallest members of the Pacific Islands Forum (PIF) said they were among the hardest hit by climate change, and a binding agreement at the so-called COP21 talks in December was crucial.
Here's one of the photos accompanying the article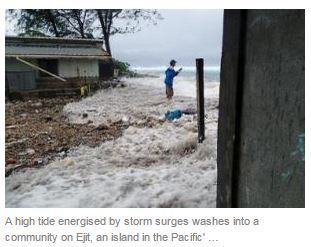 Because high tide and storm surge never happened before CO2 went over the "safe" limit of 350ppm.
Territories such as Tuvalu and Tokelau fear their nations will become unlivable as rising waters erode coastlines and ruin crops, while Kiribati has purchased a large block of land in Fiji in case its entire population needs to relocate.
Except, the seas are barely rising in those areas, and there's nothing new about sea rise during a Holocene warm period. What is this really about? Money. These island nations want lots and lots of money. Interestingly, this is what's embedded in the photo stream for the article
It seems rather serendipitous that the big ad of the day at Yahoo News is Citi bank pimping credit cards, which shows up in the article photo stream.
Maybe these islands should be more worried about their poo infested waters. And should wonder how coral based islands came into creation in the first place.

If you liked my post, feel free to subscribe to my rss feeds.