This comes within the greater context of stating that conservatives distort and misrepresent climate scientists, saying that global warming is not on hiatus. This is all part of the wider whining as to why people aren't listening, why they don't care, and about those mean "deniers" putting out disinformation, blah blah blah
Norman Loeb, an atmospheric scientist with NASA, gave a crash course in climate change science for the public at Virginia Air and Space Center on Tuesday. He talked about all the evidence that the planet is warming—like the fact that temperatures right now are the hottest they've been since record-keeping began in 1850. He also noted that the rise in surface temperatures has slowed considerably since 2000. This doesn't contradict the theory of global warming, he explained. Land temperature regularly varies, and much of the warming in the last decade is happening unseen in the ocean.
Ah, the old "the warming is playing hide and seek". [debunked] [debunked] [debunked]
The key thing to understand is that changes in global temperature don't occur at a steady pace. It's why climate scientists don't only look at a single decade's worth of temperatures. Loeb explained all of this in his presentation. And the Daily Press, a local paper that actually attended the presentation, relayed the explanation correctly. Temperature change, the newspaper's account said, looks more like a "stock market graph, with jagged ups and downs built into a long, upward trend." The long-term trend is clear, despite the hiatuses.
Of course, their computer models say something entirely different. None predict any big pauses. They predict an ever increasing world temperature, as do their talking points, which are even more outlandish, yammering on about 5-10 degrees Fahrenheit by 2100.
Yes, there has been a long term trend. Global temps have risen since 1850. In fits and starts. The longer term trend over the last 7,000 years shows a warm period followed by a cool period followed by a warm period, and so on. Multiple Holocene warm periods have been warmer than the current one. What Loeb is trying to do is use the historical norms to continue propping up the blaming of Mankind.
We can add this all to the big list of 30 excuses, via The Hockey Schtick, with a new and updated graphic from C3 Headlines.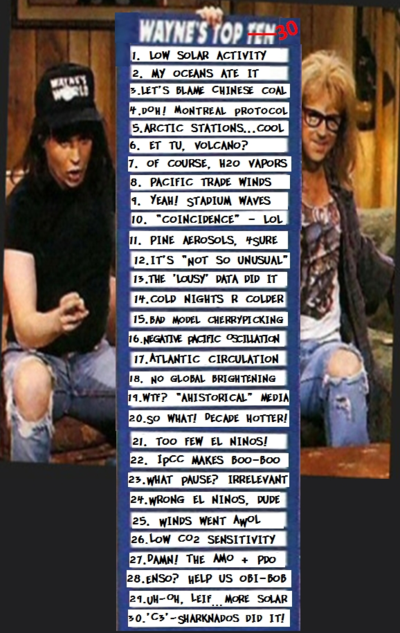 If you liked my post, feel free to subscribe to my rss feeds.