Never let a good talking point die, via the Tanzania Daily News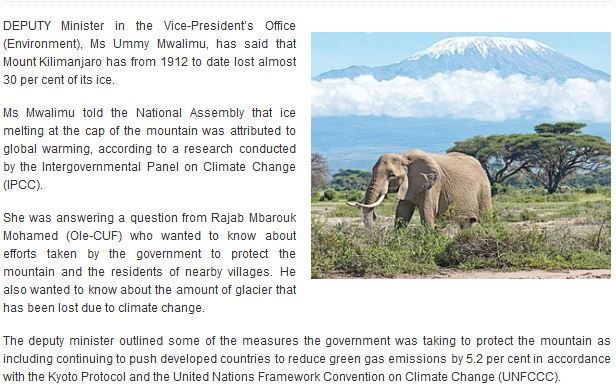 The last thing the 3rd worlders living in the area need is more reduction in their living standards through "climate change" programs. Really, though, the melting has nothing to do with "climate change", otherwise known as anthropogenic global warming. The article interestingly notes, but does not expand on, the reforestation programs that have been implemented. Much of the loss of the ice cap was due to land use. The forests were cut down which changed the wind patterns which meant less moisture for glacier creation, mostly at the lower levels, cutting trees down which reduces moisture in the winds.
At the upper levels, they have been seeing sublimation. Despite the temperatures being below freezing, the sun is turning the ice directly into vapor. There's no melt water. There could be an anthropogenic effect, such as ozone depletion, but not from anthropogenic warming. The glaciers have been melting for over 150 years, well before the supposed effects of human caused "climate change" would have started. Much of Africa has been dryer during the Modern Warm Period, but, really, can that be scientifically proven in order to be blamed on Mankind? Particularly since it started before the increase in CO2 levels? No. Even very tiny changes in solar output can have large ramifications on the Earth's climate. The Sun has always been the primary driver, something which Warmists want to deny.

If you liked my post, feel free to subscribe to my rss feeds.