Also, that Sandy was not a hurricane at landfall (via Steven Goddard)
(Washington Post) The U.S. has been extraordinarily fortunate lately: we have not been witness to the fury of a major hurricane (category 3 or higher) landfall since October 2005 when Wilma hit southwest Florida as a Category 3 storm. (Other countries have not had such good fortune these past few years. )

Since the hyper-active 2005 season, the U.S. has had just six Category 1 and 2 hurricane landfalls: Humberto (TX), Ike (TX), Gustav (LA), Dolly (TX), Irene (NC), and Isaac (LA). Â Sandy was not technically a hurricane at its NJ landfall, and if it were, it would have been a Category 1 storm.
They provide this handy dandy graphic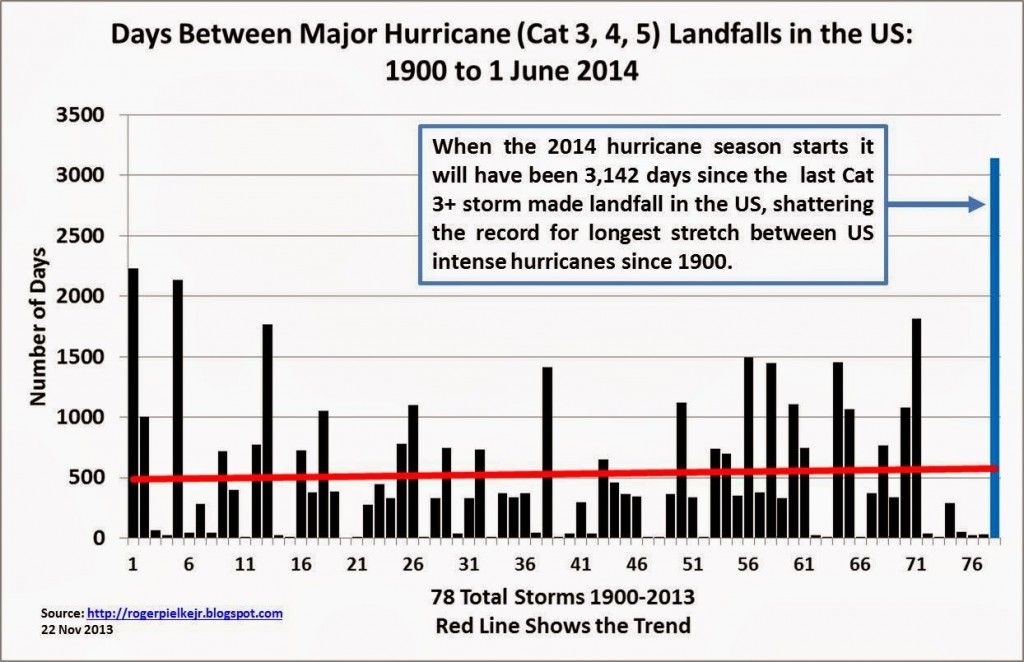 A couple points. First, technically, the WP is wrong. The US hasn't quite hit the longest period on record, which stretched 3,316 days, from August 11, 1860 to September 8, 1869. Set your calendar for November 22nd, 2014, which will break the record. The WP writer, Brian McNoldy, started with 1900, rather than further back.
Second, Irene was not a hurricane during either US landfall. This was further noted by Warmist Kerry Emanual in the NY Times. Isaac was barely a hurricane at landfall, and it could be argued that the storm was below hurricane strength, which would mean that the last US landfalling hurricane was Ike in October 2008.
Brian does note something important:
…just a single landfall at a vulnerable location can be a major disaster.

Even during an inactive season, a single storm can leave its mark on history (think Andrew in 1992)
To add to that, even a tropical storm can do massive damage. Hurricane Sandy was a tropical storm when it rolled through the Raleigh area in 1996, and was very destructive. Sandy was extra-tropical at landfall, combining with a strong cold front. That said, the point of this exercise is to note that the Warmists hysteria after the big 2005 season, that the year was what the "new normal" would be, was a bunch of mule fritters. When activity dried up, Warmists claimed that there wouldn't be as many storms, but they'd be more powerful. Along came Sandy, and they said that would be the new normal. Nope. And they're also claiming that global warming/climate change (meaning man caused) reduces Atlantic hurricane activity by increasing wind shear, something they started heavily bringing up over the last few years.
In reality, it's all/mostly part of the natural cycles.

If you liked my post, feel free to subscribe to my rss feeds.