Paul Homewood asks "What is it, precisely, that we are supposed to be denying?" Good question, because Warmists seem to be denying their own beliefs, since they rarely ever go beyond token measures, like changing one lightbulb to a CFL, in their own lives. Here's the UK Guardian. I'm going to snag the picture from Paul at Not A Lot Of People Know that, click it for the story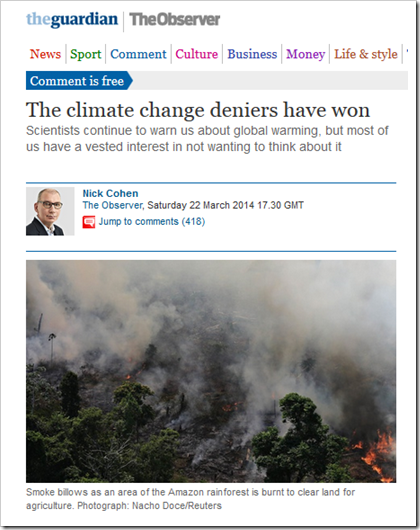 I find the accompanying photo and caption interesting. What, exactly, does that have to do with "climate change"? While I personally find it despicable, from an environmental POV, that the Amazon is being clearcut, where is the link to "climate change"? Anyhow
All of which is a long way of saying that the global warming deniers have won. And please, can I have no emails from bed-wetting kidults blubbing that you can't call us "global warming deniers " because "denier" makes us sound like "Holocaust deniers", and that means you are comparing us to Nazis? The evidence for man-made global warming is as final as the evidence of Auschwitz. No other word will do.
Strange, because Warmists cannot provide said evidence. All they can provide is a nebulous casual link, along with lots of deeply scientific words like "may", "might", and "could". And lots of scary stories about things in the future. AGW is about as scientific as saying that all waves are manmade because boats cause waves.
Climate change deniers are as committed. Their denial fits perfectly with their support for free market economics, opposition to state intervention and hatred of all those latte-slurping, quinoa-munching liberals, with their arrogant manners and dainty hybrid cars, who presume to tell honest men and women how to live. If they admitted they were wrong on climate change, they might have to admit that they were wrong on everything else and their whole political identity would unravel.
To answer Paul's question, we deny that changes in the weather and climate are caused mostly/solely by Mankind. We deny the politicized "science" being performed in order to push a Progressive agenda of higher taxes and more central government control of citizens and private entities. We deny that data should be changed to fit a preconceived notion. We deny science being used in a fashion reminiscent of a carnival fortune teller. And we deny the notion that we should be forced to change our lives by Government when Warmists will not voluntarily do the same for their own beliefs.

If you liked my post, feel free to subscribe to my rss feeds.