As you might know, Warmists have been pushing the notion that cold and snow and ice, ie, winter weather, is now caused by "climate change", due to man-induced greenhouse gas release. That talking point, designed to protect the "climate change" cult during a 17 year pause in statistically significant warming, and after several strong winters, isn't gaining traction with the American people. They also aren't buying the drought argument, either
(Gallup) Two in three Americans say their local area is experiencing colder-than-usual temperatures this winter, and one in four say their area is experiencing drought. When asked why they think these extreme weather events are happening, many more say they are attributable to normal yearly variation in temperature or rainfall than to human-caused climate change or global warming.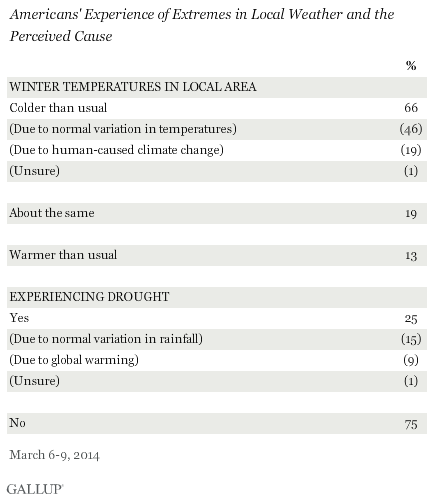 The cult just can't catch a break.
This was part 3 of Gallup surveys on "climate change". The first showed that "climate change" ranks almost dead last on the list of American concerns. The second, which was published on the 13th, shows that only 36% are concerned with global warming in their lifetime. It is elevated from the beginning of the polling in 1998, but down a bit from a high of 40% in 2008. But, this doesn't distinguish causation, ie, whether natural, anthropogenic, or a mix.

If you liked my post, feel free to subscribe to my rss feeds.