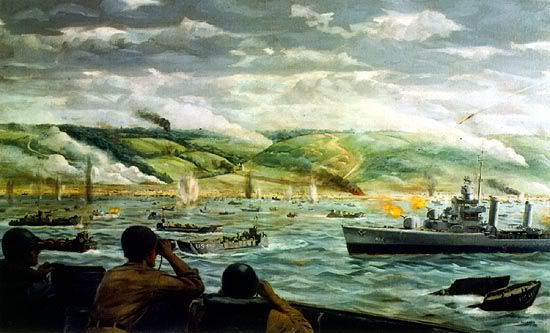 It's "A Gathering of the Greatest Generation" — though this year only a small group of that era's aging heroes will commemorate the invasion of France at Normandy 65 years ago.

On Saturday afternoon, veterans will attend a National World War II Museum ceremony in New Orleans recognizing soldiers, sailors and airmen who made that invasion a turning point for Allied forces. However, organizers acknowledge few members of an already dwindling population are hardy enough to make the trip.

"We won't have a veteran from each state, unfortunately," said William Detweiler, who is in charge of the event. "They're all in their 80s and 90s now, and getting around is just too hard for many of them."

The Department of Veterans Affairs says about 2.6 million World War II veterans are still alive, but more than 300,000 are expected to die this year. California has the most with 555,974, Alaska the fewest with 5,903.
Meanwhile, I'm listening to President Obama's speech, and, to give him his props, it's not bad. Some may get on Obama for using his family in the speech here and there, but, personally, I think it is appropriate to do so in this speech, particularly since Obama is mentioning the names and stories of many other men who were part of the D Day invasion.
Don't forget to see how Google is celebrating the day.

If you liked my post, feel free to subscribe to my rss feeds.