Other then the birthdays of Stalin, Lenin, Hitler, etc, there always seems to be some holiday that leftists will try and ruin (and yes, I do understand that Unhinged Leftists is rather redundant)
Animal rights group Peta targeted Jamie Oliver's flagship restaurant in a protest against the celebrity chef's promotion of British pork.

The move may seem surprising, as the chef's television show investigating pig welfare standards urged people to buy British rather than cheaper pork produced abroad under poorer conditions.

But Peta argued: "The answer to saving pigs is not to buy British pork, it's to go vegetarian." (snip)

However, under a banner reading "Unhappy Mother's Day for British pigs", pregnant protesters (WT: they were naked)Â crouched in crates outside Fifteen in north London, in an attempt to show the conditions sows can face before giving birth.

Protester Lynzi Waddington said: "Peta is asking people to have a heart for animal mums this time of the year and avoid meat that comes from such misery."
Nauseating PETA photo's below the fold (made safe for work with duckies!!!!)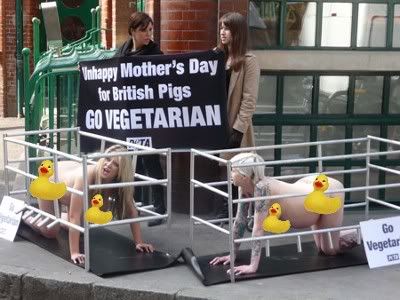 Funny how so many vegetarians look so unhealthy, eh?
Oh, for reference, Mother's Day in Britain, actually called Mothering Day (so not only is PETA in need of a better diet, they are also idiots,) is March 22nd this year.

If you liked my post, feel free to subscribe to my rss feeds.