Time and time again, Al Gore has been given an opportunity to debate his belief in anthropogenic global warming. Junk Science used to have a clock up on their site with their challenge. Eventually, they took it down when they got bored with waiting for Gore to respond. And now it gets even funnier (via Jammie Wearing Fool)
Former U.S. vice-president Albert Gore allegedly feared a direct confrontation with Czech President Vaclav Klaus at a conference on global warming, and this is why Gore's presentation was rescheduled for another day, Lidove noviny (LN) writes Thursday, referring to Klaus's spokesman.

Klaus will take part in the two-day international conference in Santa Barbara, the United States, on Friday, March 6 when he was to get involved in polemics with Gore, one of the main supporters of the global warming theory, which Klaus is sharply challenging.

However, Gore, a Nobel Peace prize winner, will speak at the conference Thursday. The organisers have changed the programme at the very last moment, LN writes.

"A dialogue (between Klaus and Gore) was to take place on one stage. We accepted the U.S. proposal positively. But the organisers reassessed the idea in the end," Klaus's spokesman Radim Ochvat told the paper.

"Gore might have feared such a clash," he added.
Indeed he would. He would certainly fear having to answer question about why there were so many falsehoods in his award winning movie, and why, if he believes Mankind is killing Gaia, Gore has changed his lifestyle to one where he puts out even more amounts of CO2.
In other AGW news, The Goracle and other hysterics are attempting to create a new top level domain, .ECO. Oh, and Lake Superior is freezing over for the second time since 2003. It usually freezes over about once every 20 years.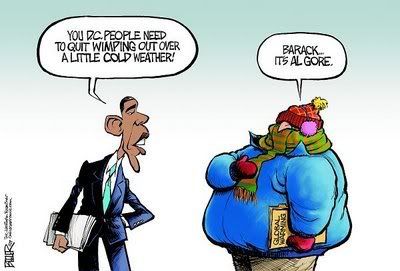 If you liked my post, feel free to subscribe to my rss feeds.