Patrick Ruffini brings us the Obarrogant story of the day
This is pretty extraordinary. A candidate for the American Presidency is using flyers printed in German to turn people out for his campaign rally in Berlin on Thursday. This flyer can be found on a bilingual page on BarackObama.com advertising the event:
Say, Barry? Buuuudy? No matter how much you want it, German citizens cannot vote for you. I know you folks on the left take the whole worldwide opinion thing a bit too seriously, but, I do believe you are over-doing it.
"It is not going to be a political speech," said a senior foreign policy adviser, who spoke to reporters on background. "When the president of the United States goes and gives a speech, it is not a political speech or a political rally.

"But he is not president of the United States," a reporter reminded the adviser.
Not that anyone believed that. Barry is going to preach from the mount. Should be interesting. I have to wonder if he will take the typical route and tell them that America has to be a better friend to them and the world? Will it cause orgasms? Or, is it a sign that Barry really doesn't like it when people show opposition to him
For security reasons, do not bring bags. Please limit personal belongings. No signs or banners permitted.
Reading a bit further down the page, he doesn't seem enamoured with the press, either.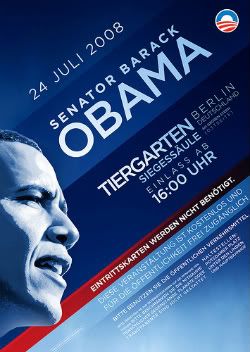 And German citizens still cannot vote for you, Barry.
Dr. Melissa Clouthier starts here post of on a note that will drive the left nuts(ier)
Gateway Pundit: More Hope, Change and Arrogance…
Captain Ed: Do "individuals" have full-color fliers distributed, complete with media credentialing for the event?
Glenn Reynolds: Barry's running for President of the world.

If you liked my post, feel free to subscribe to my rss feeds.