Great comedy!
They're rolling out a green carpet.

Almost 500 global warming activists are expected to wave signs and unveil a long green carpet at 11 a.m. tomorrow (1/17/08) on Lawyers Mall outside the State House in Annapolis.

Their goal: convince state lawmakers to stroll down the symbolic rug and endorse a law that would reduce global warming pollution by 25 percent by 2020 and 90 percent by 2050. The sponsors of the "Global Warming Solutions Act" are state Sen. Paul Pinsky, a Democrat from Prince George's County who is chairman of the senate environmental matters subcommittee, and Del. Kumar Barve, also a Democrat and the House majority leader. They proposed a similar bill last year — but it got bottled up in committee after power company lobbyists argued it could hurt the state's economy. Skeptics of such limits worry they would drive up costs of energy for consumers and impose burdensome regulations for business, while supporters argue that Maryland's economy would be hurt more by the storms and rising sea levels brought by climate change.
Read for the punchline? (from The Weather Channel page for the text forecast)
Cloudy early with periods of light rain and snow later in the day. High near 40F. Winds SE at 5 to 10 mph. Chance of precip 60%. A slushy accumulation of less than one inch.
The average high for January 17th in Baltimore is 44 degrees. So, they are going to pull their little stunt on a below average temp day with snow. Yes, there is a winter weather advisory for a good chunk of Maryland. Good move!
BTW, check the screenshot from the Weather Channel, and notice when the record high and low were.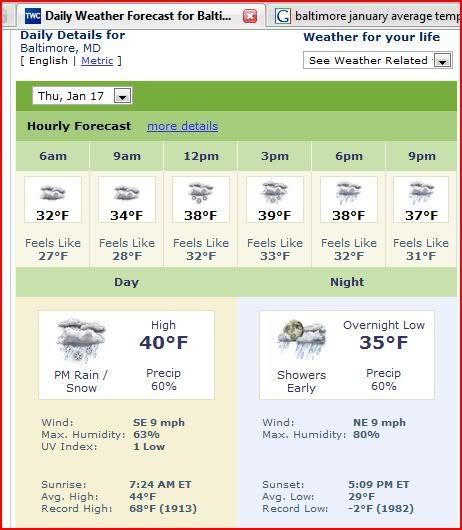 If you liked my post, feel free to subscribe to my rss feeds.