So, I was trolling the DU to see what unhinged stuff they would write about Cheney getting a new battery for his cardioverter-defibrillator. Didn't find anything (yet), but, did run across the newest Ted Rall disasterpiece, showing his military derangement syndrome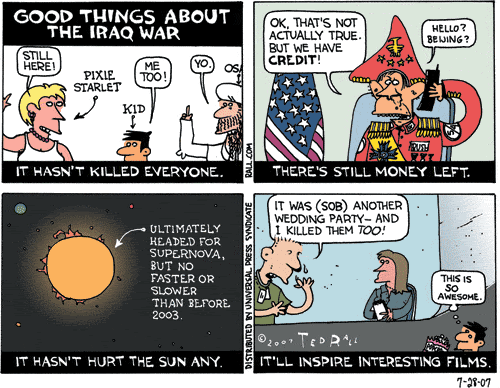 The whole cartoon simply led up to blaming the military (read, the U.S. military) killing civilians. Probably on purpose, especially at weddings.
PS: surprise of surprise, the comments for the Hufftard story on Cheney are closed. Go figure. There are probably comments on it buried in some other post, though, based on previous history.
Trackposted to Outside the Beltway, Perri Nelson's Website, Blog @ MoreWhat.com, DeMediacratic Nation, 123beta, Adam's Blog, Right Truth, Stuck On Stupid, Webloggin, Cao's Blog, The Bullwinkle Blog, Leaning Straight Up, The Amboy Times, , Conservative Cat, Conservative Thoughts, Pursuing Holiness, third world county, Woman Honor Thyself, The Crazy Rants of Samantha Burns, The World According to Carl, Nuke's news and views, Blue Star Chronicles, The Pink Flamingo, Wyvern Dreams, CommonSenseAmerica, Dumb Ox Daily News, Church and State, and Public Eye, thanks to Linkfest Haven Deluxe.

If you liked my post, feel free to subscribe to my rss feeds.