Happy Friday to all! It's that time of the week again! Do you have an interesting post you want to share with everyone? The official Surrender Monkey of the Democratic Party says to do what the Lefties don't, since they all have the same talking points: link it!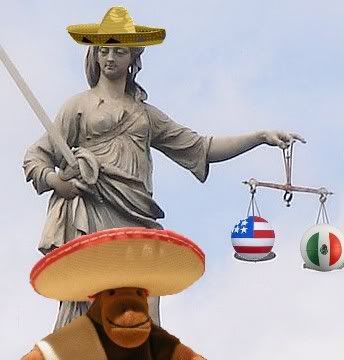 Surrendies cousin from south of the border is joining us today, as a visual representation for all illegal aliens from around the world, and has a joke: So this judge walks in to a court room, and the defendants say "hey, we just want to be law abiding people, and do not want all sorts of criminals living in our town." And the judge says
HAZLETON, Pennsylvania: A federal judge on Thursday struck down a Pennsylvania town's tough anti-illegal immigration law, ruling unconstitutional a measure that has been copied around the United States.

Hazleton's Illegal Immigration Relief Act sought to impose fines on landlords who rent to illegal immigrants and deny business permits to companies that give them jobs. Another measure would have required tenants to register with City Hall and pay for a rental permit.

Judge James Munley voided the law Thursday based on testimony from a nine-day trial held in March.
In rendering the ruling, Munley stated that federal law takes precedence. Now, I am no judge or lawyer, but, even though the feds are completely slack on enforcing the law, doesn't it specify that those illegals are, well, illegal? Like, shouldn't be here? Would Munley void the law in in New Haven, Ct, that gives them ID cards, access to bank accounts, and library cards? Some, I doubt it.
"Even if federal law did not conflict with Hazleton's measures, the city could not enact an ordinance that violates rights the Constitution guarantees to every person in the United States, whether legal resident or not," Munley added
Say again? People who are here illegally, either through crossing the border illegally, or overstaying their visa's, are entitled to full American rights? Where do we get these people?

Send a trackback to this post, but don't forget to link it. Otherwise, some judge might let an illegal move into your home through emminent domain.

If you liked my post, feel free to subscribe to my rss feeds.