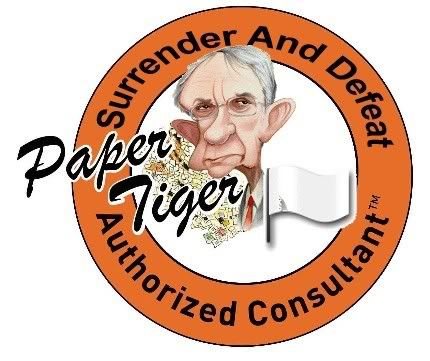 "After leaving Afghanistan, the Muslim fighters headed for Somalia and prepared for a long battle thinking that the Americans were like the Russians. The youth were surprised at the low morale of the American soldiers and realized, more than before, that the American soldier was a paper tiger and after a few blows……would run in defeat." Osama Bin Laden
Why does it seem that just as one Democrats 15 minutes of surrender fame is up, another one comes out of the pink wood work?
Nice to see at least one Republican getting up off his ass and defending Operation Iraqi Freedom (from The Corner – capitalization wasn't me)
THE DEMOCRATIC LEADERSHIP DOESN'T GET IT AT ALL. BLINDED BY DISLIKE OF THIS PRESIDENT THAT THEY CAN'T SEE CLEARLY WHAT IS GOING ON IN IRAQ.
…
BECAUSE WHEN YOU SAY THE WAR IS LOST, THE NEXT QUESTION TO ASK IS IF WE LOST, WHO WON? BECAUSE IN WAR, THERE ARE WINNERS AND THERE ARE LOSERS. AND IF THE MAJORITY LEADER HAS DECLARED US THE LOSER, THEN THE QUESTION NEEDS TO BE ASKED BY THE WORLD AND THIS COUNTRY: WHO WON THAT WAR IN IRAQ? WELL, I TELL YOU WHO WILL CLAIM CREDIT FOR WINNING THE WAR IN IRAQ. AL QAEDA.
…
IF YOU BELIEVE GIVING THESE GROUPS IRAQ MAKES US SAFER, YOU KNOW NOTHING ABOUT HUMAN BEHAVIOR OR HISTORY AS A WHOLE.
…
WHEN YOU GIVE INTO THE DARK FORCES OF HUMANITY, WHEN YOU ALLOW PEOPLE WHO SLAUGHTER THE INNOCENT TO WIN WARS, YOU DON'T END THEIR DESIRE. YOU WHET THEIR APPETITE.
And, from Al Reuters
But Republicans said the continuing violence should not determine the U.S. approach. "Are we going to let suicide bombers and car bombers define the foreign policy of the United States?" asked Sen. Lindsey Graham, a South Carolina Republican.
Democrats are. That, plus anti-Americanism and the need to control Congress.
Trackposted to Outside the Beltway, Perri Nelson's Website, Blog At MoreWhat.com, The Random Yak, Adam's Blog, Maggie's Notebook, Big Dog's Weblog, basil's blog, The Pet Haven Blog, Leaning Straight Up, Cao's Blog, The Bullwinkle Blog, Conservative Cat, Pursuing Holiness, Conservative Thoughts, The Magical Rose Garden, third world county, Faultline USA, stikNstein… has no mercy, The Crazy Rants of Samantha Burns, , Blue Star Chronicles, Planck's Constant, Renaissance Blogger, CORSARI D'ITALIA, The Yankee Sailor, Gone Hollywood, and OTB Sports, thanks to Linkfest Haven Deluxe.

If you liked my post, feel free to subscribe to my rss feeds.