Yes, folks, it is time to retire the Beer Monday Linkfest. Beer is just way, way to motivational, and, as Harry Reid and the other Democrats have shown, it is much better to just give up then to try.
So, in honor Dingy Harry and his "Iraq is lost" mentality, it is time to start the Demotivational Monday Linkfest, ensuring that your work week starts off knowing that no matter how bad it is, it can always get worse, and probably will.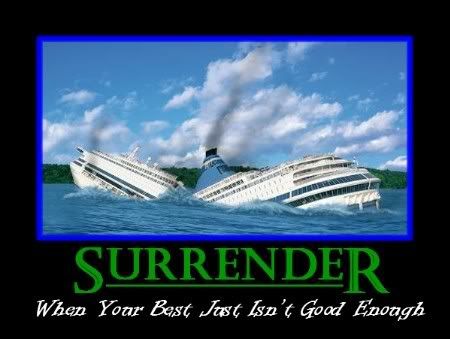 Of course, Demotivation Monday must start with Dingy Harry
WASHINGTON – With a veto fight looming, Senate Majority Leader Harry Reid (news, bio, voting record) said Monday that President Bush is in a state of denial over Iraq, "and the new Congress will show him the way" to a change in war policy.

Reid, D-Nev., said the Democratic-controlled House and Senate will soon pass a war funding bill that includes "a fair and reasonable timetable" for the withdrawal of U.S. combat troops. In a speech prepared for delivery, he challenged Bush to present an alternative if, as expected, he vetoes the measure.
Bush's alternative? Fund the troops without surrender timelines, quit the constant harping, and offer some positive solutions to be able to leave Iraq without surrender. That is what he would like the Democrats to do.
Reid noted disapprovingly that in a speech last week, Bush repeatedly said there were signs of progress in Iraq in the wake of a troop increase he ordered last winter.

"The White House transcript says the president made those remarks in the state of Michigan. I believe he made them in the state of denial," said Reid.
Well, gee, I thought he was going to give up his "Iraq is lost" mentality. But don't question his patriotism.
Democratic officials have also said they intend to add a minimum wage increase to the war funding bill. Key lawmakers announced agreement late last week on a package of business tax breaks to accompany the boost in the wage floor, which would total $2.10 cents an hour in three equal installments.
And a continuation of the playing with the money needed for the troops game.
Meanwhile, in the House, the Democrats are preparing for round two of their surrender in Iraq legislation
WASHINGTON – Democrats are considering their next step after President Bush's inevitable veto of their war spending proposal, including a possible short-term funding bill that would force Congress to revisit the issue this summer.

Another alternative is providing the Pentagon the money it needs for the war but insisting that the Iraqi government live up to certain political promises. Or, the congressional Democrats could send Bush what he wants for now and set their sights on 2008 spending legislation.
These people are incredible. They have been asked time and time again for a plan to win in Iraq, and have ignored those calls, yet they seem to have plenty of time to come up with plans for surrender to go along with their complaints.
Democratic leaders have been reluctant to discuss their next step, focusing instead on their ability to send Bush legislation rebuking his Iraq policy. But other lawmakers say there is no denying that Democrats do not have the two-thirds majority needed to override Bush's veto. And soon enough, everyone will be asking what happens next.
And there is the true reality. The Democrats are playing politics, using the US troops as bargaining chips. Most of them are too scared to do what the Nutroots want, ie, complete cut and run immediately, so they will play games with the money for both the Iraq and Afghanistan operations. They only support the troops as far as they can use them for petty political purposes. Sure, there are some who aren't surrender monkeys; those, Pelosi and company will bribe.
"We don't want to throw in the towel," said Moran, D-Va. "The problem is (Bush) is willing to play chicken with funding the troops and we aren't. We just aren't going to take a chance (the Pentagon) will run out of funding for the troops."
In a time honored Democrat tradition, Moran cast the blame elsewhere. President Bush has stated he will not sign anything with a timetable. The Democrats put one in. If they want to play games, let them play them in other manners, not while we are in the middle of a war.
Also, if Moran was so worried about funding the troops, why didn't he recommend that the Congress not take their spring break?
As far as throwing in the towel, actually, many do, such as Murtha and Woolsey, as the article points out.
As I add them, they can all be seen here.
Here is a second one, just for the hell of it.

Send a trackback to this post, but don't forget to link it.

If you liked my post, feel free to subscribe to my rss feeds.