There will be no joy in Liberalville today. No fitzmas pudding, no cute wrapping paper, no bright bows, no pithy Fitzmas cards. The tofu turkey has been overcooked, the cranberries are almost liquid, and the gravy is curdled. Father Fitzmas will not be coming this year:
 Top White House aide Karl Rove has been told by prosecutors he won't be charged with any crimes in the investigation into leak of a CIA officer's identity, his lawyer said Tuesday.

 Attorney Robert Luskin said that special prosecutor Patrick Fitzgerald informed him of the decision on Monday, ending months of speculation about the fate of one of President Bush's closest advisers. Rove testified five times before a grand jury.
Turn off the Fitzmas lights, take the Fitzmas tree down, blow out the pot flavored Fitzmas candles. All is silent and dark.
Mwahahahahahahahahahahahahahahahahaha!
But, of course, the AP gets into wishful thinking mode. Or is it just "too lazy to report the real facts mode?" Actually, the AP reports what Fitz has done, rather then what he was tasked to do
 Fitzgerald has been investigating whether senior administration officials intentionally leaked the identity of CIA undercover operative Valerie Plame in retribution because her husband, former Ambassador Joseph Wilson, sharply criticized the administration's pursuit of war in Iraq.
My first thoughts were what is struck out. But, this is what Fitz has done. He hasn't seemed to do his task, ie, was a law broken in outing Plame.
The Surrender Monkey is very sad, after putting on his finest suit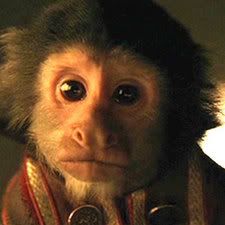 A few others: Poliblog, Stop The ACLU, Wizbang, Jo's Cafe
Super busy today, so this will stand as the OTBP post, too

Do you have an interesting post? Well, go ahead and leave a trackback, with a reciprical link back to me. Others offering open trackbacks are over in the right sidebar, near bottom. Have at it, y'all!

If you liked my post, feel free to subscribe to my rss feeds.