But, don't call them permanent permanent, it's just so that they don't have to spend time reauthorizing any temporary rules every so often, you know
Oregon Health Authority begins filing 'permanent' COVID-19 rules

The Oregon Health Authority says it expects to file "permanent" rules on Friday for mask requirements in K-12 schools, as well as vaccination requirements for educators and staff.

Friday's announcement does not include the statewide indoor mask mandate. State epidemiologist Dr. Dean Sidelinger said in a briefing that officials are still going over public comments before proceeding, which will most likely happen in the next week or two.

Permanent rules can be repealed by state agencies, which happened in 2021 before the Delta variant began to surge. By definition, temporary rules are only valid for 180 days.

"State health officials emphasized that the rule filing will maintain masking protections during the current Omicron surge," OHA said in a statement. "State officials are developing measures to determine when it may be safe to lift the school mask rule."
It's nice that the state has given the OHA, an unelected bureaucracy, one which is completely unresponsive to the citizens of Oregon, the power to decide permanent rules for masking in schools, along with vaccination requirements, eh? Or, have they? With the state being run by Democrats, who's going to stop them if they don't have the authority? Anyone want to bet that the teacher's union is behind this?
At Friday's briefing, Dr. Sidelinger underlined that permanent rules can be loosened or rescinded as conditions change, pointing to COVID-19 hospitalizations that are nearing the Delta variant peak. (snip)

"So I would anticipate, in the coming weeks to month and a half, that we will see a significant decrease in the number of people with COVID in the hospital," Sidelinger continued, "and at that time it'll be a time to start talking about 'Can we move from a requirement for masks in indoor public spaces to a recommendation for certain populations or in certain communities where rates are higher?'"
So why pass a permanent rule? Why not a temporary? Not that masks are necessary for kids. Most nations have avoided this. Surely just to placate the teacher's union, which is full of COVID cultist Karens who lose their minds over people, and especially kids in class, not wearing a mask. And
Rules expected to be filed on Jan. 31 include:

OAR 333-019-1010 – COVID-19 Vaccination Requirement for Healthcare Providers and Healthcare Staff in Healthcare Settings.
OAR 333-019-1011 – Masking Requirements to Control COVID-19 in Health Care Settings.
But, again, do not worry, they aren't permanent permanent
But just because the rules are "permanent" does not mean they are going to be in effect indefinitely, officials tried to ensure Oregonians. The rules can be loosened or rescinded as pandemic conditions change, particularly around hospitalizations.
So, no worries, right? Good thing the members of the Oregon Health Authority wear masks to show people the way, right?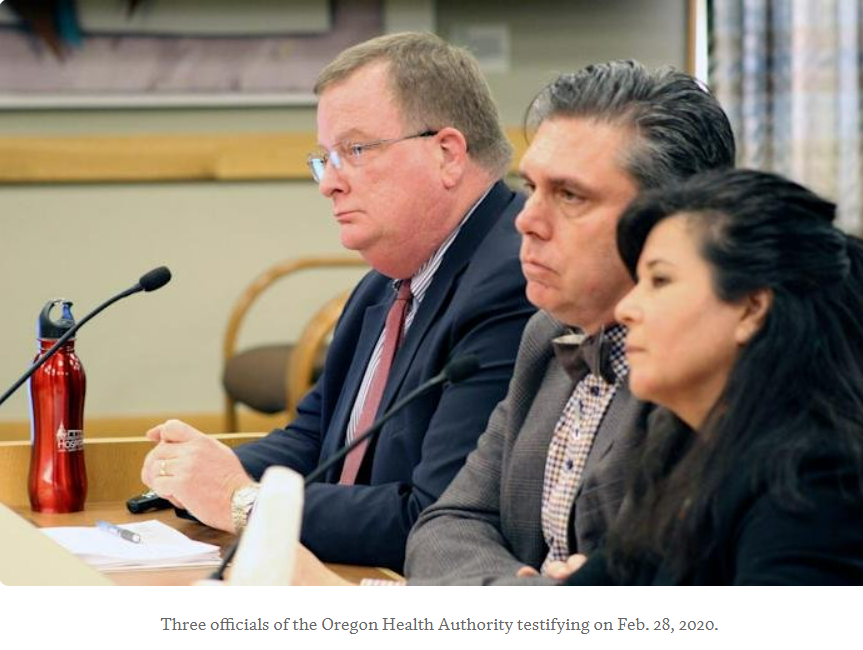 Go figure. (from the second article)

If you liked my post, feel free to subscribe to my rss feeds.