Parents should give them what they want, and tell the schools to make the teachers who indoctrinate the kids to do something
Children 'push' their parents to fight climate change

The look of the children has a decisive influence on the actions and decisions of the parents. It might seem like a no-brainer, but & mldr; Could it be scientifically proven to be true, for example, when making decisions related to climate change? This is what a group of researchers from the University of Exeter, in the United Kingdom, has studied through a curious experiment developed in Innsbruck, Austria. And the answer is yes', parents are more aware of the need to act against global warming if they are being watched by their children.

The so-called Individual voluntary climate actions are necessary to reduce the damaging effects of climate change. But provide a benefit to the environment by reducing the individual carbon footprint supposes an economic cost for the individual.

On the basis that people with children are "genetically related to the next generation & rdquor; and they have "an incentive and a responsibility to take care of the well-being of your children& rdquor ;, a group of scientists predicted that parents would be especially likely to participate in voluntary climate actions when observed by their offspring. More than if the looks were coming from other observers.
There's some weird syntax, I assume from a bad copy and paste, but, regardless, it goes to this study here, Climate Action for (My) Children,
Individual actions—referred to as voluntary climate action (VCA)—are needed to reduce climate change's harmful effects (Goeschl et al. 2020). VCA takes different forms on an individual level; however, one key unifying aspect of VCAs is that they necessitate incur a cost to the individual to provide a benefit to the environment, a general public good that is largely consumed in the future (Fischer et al. 2004; Diederich and Goeschl 2014; Hauser et al. 2014; Lohse and Waichman 2020). Examples of VCAs include investing in energy-saving technology (e.g., solar panels), switching to CO2-friendly purchasing habits (e.g., buying less red meat), or even engaging in small, everyday behaviors, such as spending less time in the shower (Wynes and Nicholas 2017). In our study, we are interested in VCA that has a long-lasting positive effect on the environment (Layton and Levine 2003; Steinke and Trautmann 2021): we focus on CO2 offsetting, using a foresting program that plants climate-efficient trees, as such programs have become increasingly widespread and available as means for individuals to help reduce their "carbon footprint" (Kollmuss et al. 2010).
Hmm, those aren't much in the way of actions, eh? How about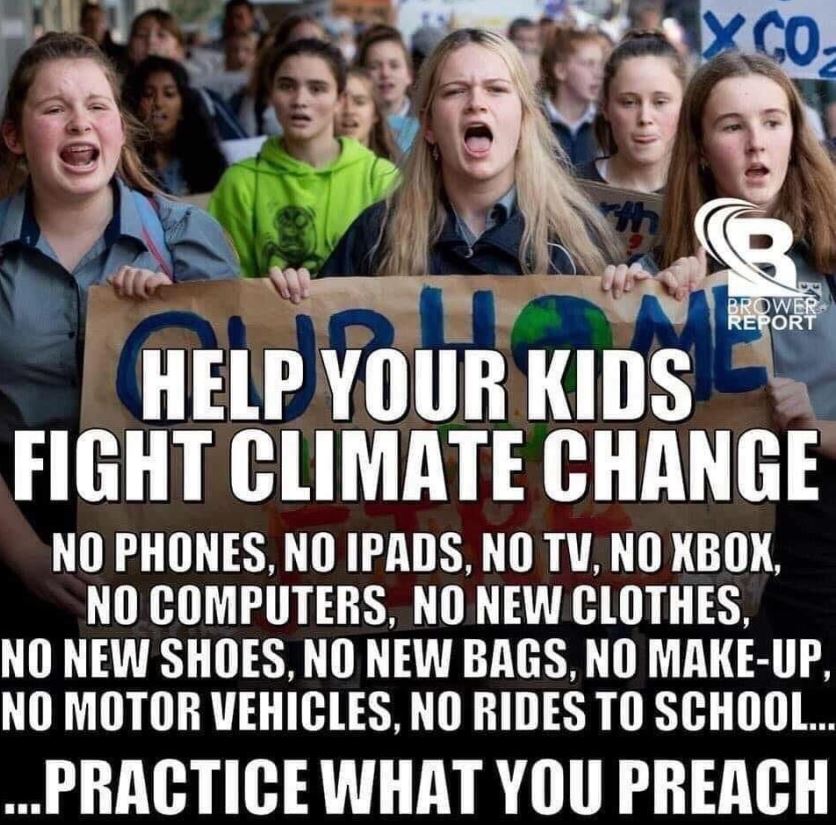 Same thing for the adults.

If you liked my post, feel free to subscribe to my rss feeds.