Fortunately, the Credentialed Media is around to keep this going. Maybe we should all go back to #FuckJoeBiden?
Where was the Charlotte Observer during the 4 years of Democrats saying nasty things about Trump, his family, and everyone around him? @sistertoldjah https://t.co/5zj2xFbDch

— William Teach2 #refuseresist (@WTeach2) January 7, 2022
If you have trouble with the link to the Charlotte Observer, try the Yahoo one, in which Excitable Peter Horn loses his mind
Back in Charlotte for the holidays, I was out on a walk when I noticed my parents' neighbor's truck. It's a big truck. White, newish, plastered with bumper stickers in dense but ordered rows — mostly political, some football-related. Among many others was "Mean Tweets 2024" and "Let's Go Brandon."

This, from a purportedly serious man. A grown-up by most senses of the word, likely born in the 1950s. A man with grown children of his own, a respectable career, two bowls of water by his mailbox for passing dogs and a nativity set in the front yard.

I stopped and stared for a moment, wondering, how did we get here?

I don't mean the polarization. How did we reach this level of absurdity, where "serious people" are comfortable putting thinly veiled "F— Joe Biden bumper stickers on their trucks, like a group of 12-year-old boys snickering over walkie-talkies because surely Mom and Dad don't know that word really means penis.
I don't read the Charlotte Observer all that much, going with more local Raleigh outlets, but, I'm not finding, with a few searches, any complaints over the massive amount of vile invective thrown towards Trump, his wife and child, Mike Pence, everyone who worked in his administration, as well as Republicans like Mitch McConnell, Ted Cruz, and so many more. How many called him pResident? Orange man? Assassination chic? Kathy Griffin "beheading" Trump?
I could keep going and going, and, no complaints from the Charlotte Observer. There are throw pillows, bumper stickers, and t-shirts, among others, at Amazon, Etsy, and more. Tons of nasty stuff from celebs and music (or, considering what they made, should it be "music"?) people, even those in the media. And big media.
For those unfamiliar with "Let's Go Brandon," it's a viral slogan that's coded criticism of President Joe Biden. It started when an NBC Sports reporter suggested fans at an Oct. 2 Talladega race were chanting "Let's Go Brandon" during an interview with NASCAR driver Brandon Brown. They weren't. They were actually chanting "F— Joe Biden."

It's all just so juvenile. So pathetic.
Sure thing, Chump. Those of us blogging during the Bush43 years thought it couldn't get worse. But, we should have know that Democrats could add a 12 to the amplifier.
And Trumpism is Steve Bannon trying to "kill the Biden presidency in the crib."
Right, right, like Democrats talking about impeaching Trump before he even took office. Like Dems coming up with the BS Russian collusion.
"Let's Go Brandon" isn't just another silly, immature bumper sticker. It's the latest shiny object in the GOP's culture war quiver to distract from the truly nefarious, anti-democratic process at work. A process that seeks to limit access to voting, cast doubt on our electoral process and potentially upend the American experiment because their guy lost.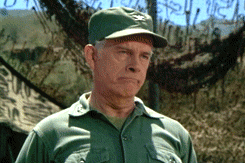 If you liked my post, feel free to subscribe to my rss feeds.