Most of these states have mask mandates
Covid hospitalizations rising in 36 states as U.S. hits another record for average new cases

The average number of new daily cases of the coronavirus in the United States hit another record on Monday as 36 states reported worrying rises in the number of hospitalized patients.

The average number of patients hospitalized with Covid-19 over the past seven days rose by at least 5% in 36 states as of Monday, according to a CNBC analysis of data from the Covid Tracking Project. Hospitalizations lag behind cases as it takes time for people to get diagnosed and become sick enough to require medical attention. However, epidemiologists point to hospitalizations as a more telling indicator of the severity of an outbreak than new cases, which can fluctuate based on testing.

In Illinois, where Gov. J.B. Pritzker announced new business restrictions last week in four counties and Chicago, 2,638 people were hospitalized with Covid-19 as of Monday, according to data compiled by Covid Tracking Project, which tracks testing, hospitalization and other data on the outbreak. It's run by journalists at The Atlantic. That pushed their seven-day average up over 2,480, a more than 24% increase compared with a week ago, according to CNBC's analysis.

In Texas, El Paso County Judge Ricardo Samaniego issued a curfew on Sunday to protect "overwhelmed and exhausted" hospitals and workers. More than 5,200 people there were in hospitals with Covid-19 on Monday, Covid Tracking Project's data shows. The Lone Star state has had an average of about 4,970 Covid-19 patients in hospitals on any given day over the past week, up more than 18% compared with the previous week.
Remember when lockdown would take care of all this? Then it was masks. Remember, we aren't just seeing this in the U.S., but so much of the world, including the 1st World. Many, many parts of Europe are exploding. In fact, if you look at the graphic, there are way more confirmed cases than during lockdown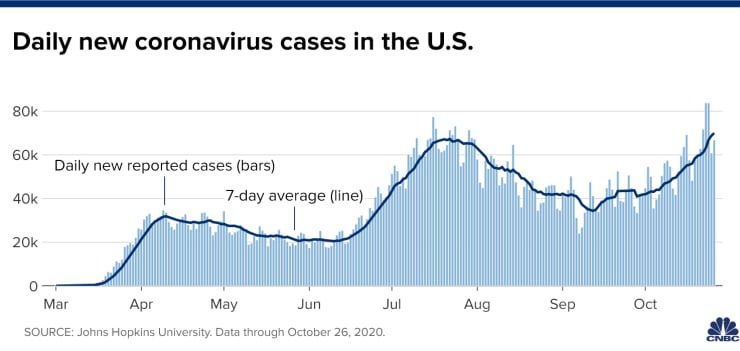 And though cases is much, much higher than during lockdown…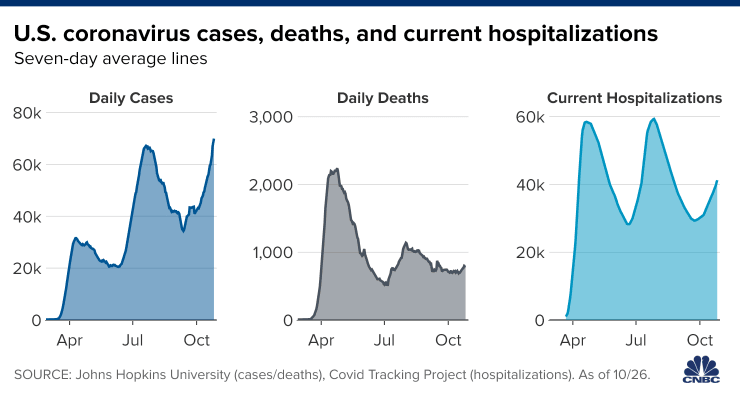 …deaths have dropped way off. Perhaps it's because they aren't mixing deaths that really were from something else on the reports, and COVID only made it quicker? Of course, they are expecting a big spike in deaths.
He added that flu season typically begins to gain steam in November, and that could add another complication to the U.S. response to the pandemic. The diseases caused by the flu and the coronavirus "look very much alike" and health workers will face new challenges in trying to diagnose Covid-19 and flu patients, Schaffner said.
And flu deaths will be simply blamed on COVID. Unless Biden wins, then even deaths from COVID will be minimized, at least starting January 21st.
BTW, this doesn't mean don't take precautions. Wash your hands a lot, keep your distance, don't touch, clean up, wear the barely helpful mask when necessary. I won't tell you to do things that I don't do myself. Better to be safe than sorry, right?

If you liked my post, feel free to subscribe to my rss feeds.