According to Wikipedia, "Frederick Samuel "Fred" Hiatt (born April 30, 1955) is the editorial page editor of The Washington Post. He also writes fake news for the page, as well as a biweekly column that appears on Mondays." Huh, someone stealth edited the Wiki. Anyhow, Fred is rather vexed
How Donald Trump and Bernie Sanders both reject the reality of climate change

The survival of our planet as we know it is in danger.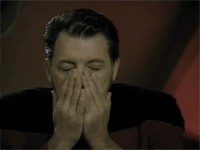 We have at hand a bipartisan, rigorous plan to address that danger.

And now it is more than possible that we will end up with two presidential candidates who reject that plan in favor of two varieties of utter unseriousness.

The first is the denialism of President Trump. He either believes or cynically pretends to believe that climate change is not a threat. His administration has gravely aggravated the threat, for example by recklessly relaxing regulation of the super-warming gas methane.

The second version is the fantasy extremism of Sen. Bernie Sanders. He would prosecute oil executives "for the destruction they have knowingly caused" (he "welcomes their hatred") and phase out carbon-neutral nuclear power. The Vermont independent would ban the fracking of natural gas, which is — if you control the methane emissions — a useful transitional fuel from dirty coal to clean wind and solar.

As though by magic, Sanders's proposals will "dramatically decrease the cost of energy storage" and (why not?) make electricity "virtually free" after 2035 (though, sadly, we would still have to pay for "operations and maintenance costs"). All fossil fuels will be gone by 2030, the renewable energy that takes its place will be "publicly owned," and — not to worry — the plan "will pay for itself over 15 years."
Fred's not impressed by Sanders waving his magic wand, therefore, Comrade Bernie is ignoring reality. What is reality according to Fred, who, remember, is the guy in charge of the opinion page at the Washington Post
Which brings us back to the plan, put forward this month by the Climate Leadership Council, that would actually work. Supported by energy companies (including Total) and environmental groups alike, it would impose a steadily rising tax on carbon. That would lead to reduced consumption and increased innovation in alternatives, including battery storage for solar and wind power. To get buy-in from industry, the plan would do away with a lot of regulation — but only so long as emissions were, in fact, going down.
The plan itself would also place a carbon tax on imports. Magically, the cost of living due to increased cost on all these goods and fuels is not mentioned.
Fossil fuels companies wouldn't be pimping a carbon tax unless they thought something was in it for them. They won't be paying it: the cost would be passed on. I suggest that every company and rich person/politician that pushes a carbon tax should have it apply directly to them. Let's make the whole news sector part of this. Would Fred and the rest of the people in the opinion pages (as well as straight news) at the Washington Post be so glib about introducing a carbon tax if it was going to be placed directly on the operations of the WP?

If you liked my post, feel free to subscribe to my rss feeds.