Which is actually interesting, as it beats out their unhinged rants for impeachment
Impeachment at Bottom of Voters' Priorities for New Congress

Throughout Donald Trump's presidency, Democratic leaders have tried to tamp down on efforts among their rank and file to elevate discussion of impeaching the president, but the first day of the 116th Congress illustrated it's a tough task.

Freshman Rep. Rashida Tlaib (D-Mich.) made headlines that persisted for days after touting her desire to "impeach the motherf—er" in the White House during a Jan. 3 speech to liberal MoveOn.org activists. Those remarks came the same day that two other House Democrats, Brad Sherman of California and Al Green of Texas, introduced a resolution to impeach the president.

A recent Morning Consult/Politico survey — conducted Jan. 4-6 among 1,989 registered voters — underscores why the likes of House Speaker Nancy Pelosi (D-Calif.) and Senate Minority Leader Chuck Schumer (D-N.Y.) have been reticent to discuss the prospect of impeaching Trump: Just 23 percent of voters said beginning impeachment proceedings to remove Trump from office should be a top priority — the lowest on the list of priority topics tested.
It's rather a weird poll, as respondents were apparently allowed to pick multiple things as priorities, and the article doesn't include a link to the actual data and questions asked.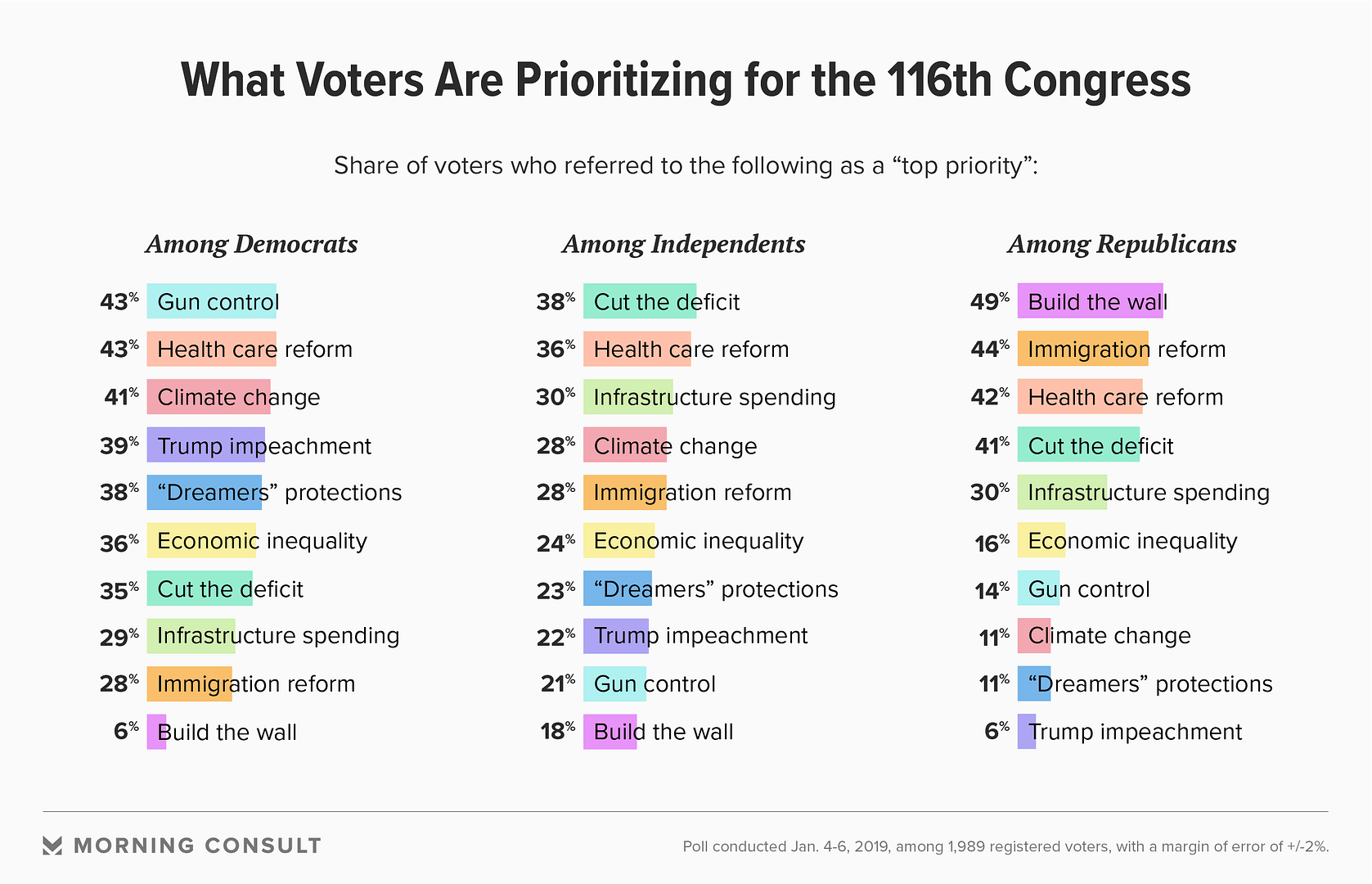 So, hooray, 'climate change' actually beat something! Among all voters, though, it would be right at the bottom.
And, of course, Democrats want to take out guns, and, weirdly, want health care reform. Wasn't that what Obamacare was for? Oh, right, now they want government run health care. Gun control is pretty darned low overall, though.

If you liked my post, feel free to subscribe to my rss feeds.