You remember the Warmists talking points on hurricanes, right? First, we heard that the big season of 2005 would be the new normal due to anthropogenic climate change. Then, when hurricane activity, and especially landfalling hurricane activity, fell off the map, we were told that there would be fewer but they'd be more powerful. Then, when that failed to materialize, we were told that 'climate change' was snuffing out hurricanes along with changing where they went. Oh, and that we'd see all the massive hurricanes "in the future." Now we get
(CNN) Climate change is likely to reduce the number of hailstorms across North America in the coming years, a new study says, but don't get rid of your insurance policy quite yet. You will probably still need a new roof due to hail damage, as the research suggests the storms that do come will be more damaging.

According to the study, published Monday in the journal Nature Climate Change, human-induced climate change is likely to decrease the number of hailstorms while increasing the size of hail in the storms that do form.

"As the planet warms, we are finding that we're having fewer rainfall events, but when it does rain, it tends to be heavier. And that seems to be what — at least what our work is suggesting — it could be what's happening with the hail as well," said Julian Brimelow, a researcher with Environment and Climate Change Canada, a government department, and a co-author of the study.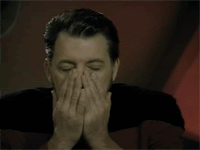 Oh, and get this
The team used computer modeling simulations of hail growth to discover how hailstone growth will change. It ran models for the years 1971-2000 and 2041-2070 and then compared the data.
Refer back to Commander Riker.

If you liked my post, feel free to subscribe to my rss feeds.