It really is that time of year to have a month long freakout of linking 'climate change' to Christmas
There could be just two years left before the North Pole disappears

MY SIX-YEAR-OLD asked me about Santa the other day. Luckily, it wasn't the moment where his innocence is shattered forever.

Instead, he was wondering how Santa was going, preparing for his annual voyage around the world, dispensing plastic junk from China to all the world's least-needy kids. (I added the last part, but you get the drift).

I painted the picture that my parents had passed on to me. I explained to him how the night is slowly descending across the North Pole at the moment, and by the time Santa sets off on his sleigh across the ice on Christmas Eve, it will be shrouded in continuous darkness, lit only by his Christmas candles, and one shiny red nose.
So far so good
My son is very interested in fashion, and so we talked at length about Santa's warm red jacket. The sad thing that I didn't have the heart to tell my son is that, at the moment, Santa's big red jacket is probably too warm for Santa himself, even at the North Pole.

Santa is a fantasy but climate change is not, and it's started to do truly alarming things to the North Pole.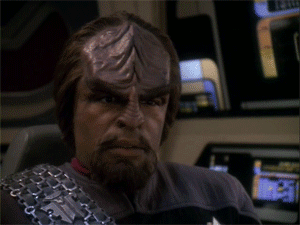 When it comes to climate, I'm a pretty lousy citizen. I do all the things you're not supposed to do. I use a clothes dryer, I eat red meat, I even stopped offsetting my energy bills when I got my new mortgage.
So then go away.
This is why I'm seriously considering taking the kids out of school next July, and taking them up to the North Pole to see the ice. It's probably the last chance to see it. Fantasies of the North Pole are such a vivid part of my own childhood. When was a kid, I always assumed I'd go there one day. Now I know my children will not.

If I do take my kids to see the North Pole and they live long lives, they'll end be some of the last people on earth to be able to attest that there was indeed, ice at the top of our planet.
Refer back to Worf.

If you liked my post, feel free to subscribe to my rss feeds.