This seems to have utterly vexed AP writers Lauren Neerguaard and Emily Swanson
AP-GfK poll: Voters more confident in Trump's health

The "stamina," the "look": A new poll suggests voters are buying in to Donald Trump's insinuations about Hillary Clinton's health. They're ignoring the medical reports.

Voters — especially men — have more confidence that Trump is healthy enough for the presidency than Clinton, according to the Associated Press-GfK poll.

It's a disconnect considering Clinton has released more medical information than Trump, and that outside doctors who've looked at the available data say both candidates seem fine. But it shows the political points Trump scored after the Democratic nominee's much-publicized mild case of pneumonia.
It's not a disconnect when we see Hillary have long coughing fits on a seemingly constant basis. When we see her seemingly unable to walk a flight of stairs. When we see her fall down. When she seems to injure herself. When her eye wanders. When she collapses on video.
"Everybody gets sick," said Sherri Smart, 56, of New York. She said she hasn't decided who to vote for but wishes the candidates would discuss issues instead of sniping about who's most vigorous.
True, everybody does get sick. When it happens on a constant basis, it is cause for concern. But, hey, let's talk about Hillary's meager Clinton Foundation donations to charity, her illegal use of an insecure email server, and what she actually did as a Senator and Sec of State. Perhaps we can talk about her attacks on women who credibly accused her husband of sexual assault.
"What's important is, what are you going to do for me?" Smart said.
Good grief.
The AP-GfK poll found 51 percent of voters are very or extremely confident that Trump is healthy enough to be president. In contrast, just over a third of voters — 36 percent — had the same confidence in Clinton's health.
So, Trump isn't all that much better. But still better. Hillary is way underwater. The poll has some interesting metrics. It includes 20% with vote seldom/never, with 14% voting never. 15% overall say they aren't going to vote. It oversamples Democrats 34/24/26 (D/I/R). 14% say they are none of those.
Only 16% are very confident in Hillary's health, with 21% very confident, as compared to Trump with 19/29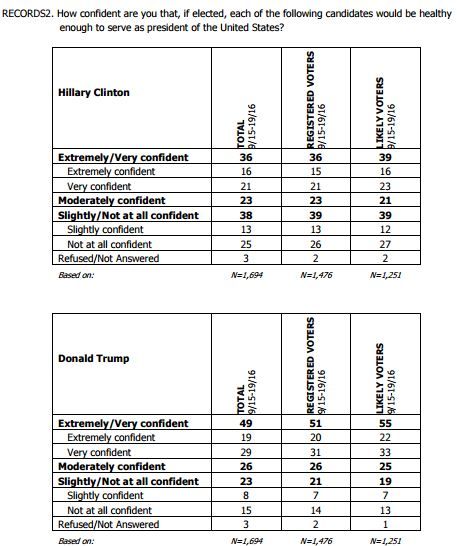 Of course, let's not forget that Trump called a Ms. Universe who put on like 60 pounds fat. Because that's super important.
Crossed at Right Wing News.

If you liked my post, feel free to subscribe to my rss feeds.