Did you know that the Democratic Party candidates were part of a forum Friday night?
(Slate) The three candidates running for the Democratic nomination gathered in Rock Hill, S.C., on Friday night for a we-swear-it's-not-a-debate forum hosted by MSNBC. The night didn't provide much in the way of drama—or hard news per se—but it was sharp, well-produced, and generally informative for any voters who haven't been paying close attention to the race to date.

It also had a lightning round of "stupid" questions (Rachel Maddow's word, not mine) that were welcome moments of brevity and levity in conversations that (rightly) focused on serious issues like climate change, U.S. military intervention abroad, and the death penalty. Perhaps more surprisingly, all three candidates charmed—in their own particular way—in segments that might otherwise have been cringe-worthy.
So, softball questions from one of the most hardcore far left progressives in the "news" media held by a network that pretty much admits it is in the bag for the Democratic Party. That's not the best part. This is, via Mediaite (which also has video)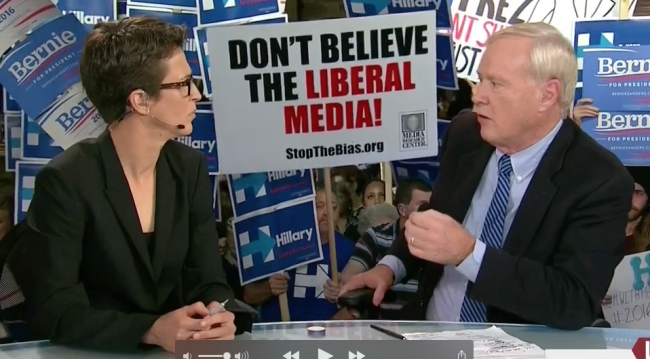 That sign is from the Media Research Center. Newsbusters, a project of MRC, highlights several other times they managed to get it on TV.

If you liked my post, feel free to subscribe to my rss feeds.