We can only assume that Slate writer Joanna Rothkopf, Gawker, and the outraged commenters are pro-looter
Disgusting: Darren Wilson supporter crowd-funds "Pants Up Don't Loot" billboard in Ferguson

A man has successfully raised enough money to erect a billboard reading "#PantsUPDontLoot" in Ferguson, Missouri, as the town braces for a grand jury's decision regarding whether to indict Officer Darren Wilson for Michael Brown's death. That phrase, first coined in a National Review article, is an obvious play on "Hands up, don't shoot," a refrain often chanted by protesters in support of Brown, who reportedly raised his hands to surrender as he was gunned down by the cop.
Here's what it is intended to look like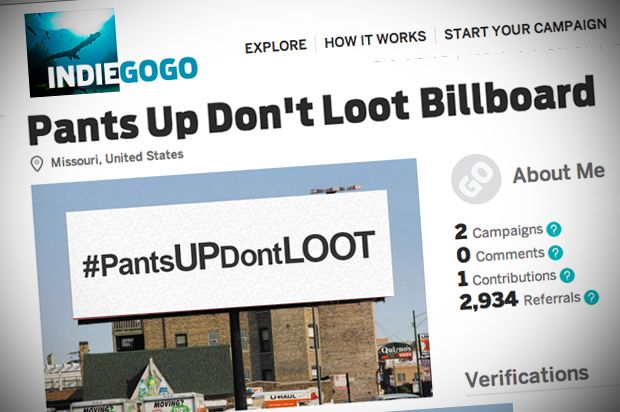 Well, that makes sense, does it not? Don't loot. If you disagree, that means you're pro-looting.
They've hit their $3000 target for fundraising.

If you liked my post, feel free to subscribe to my rss feeds.