So, over the past 16 years the world's temperature has essentially flatlined. What about the last 2?
(GWPF) The most recent global temperature record, released this week, shows the average global temperature fell last year for the second year. There is now general agreement that the rising trend has stalled. This is the background against which governments will meet in Doha to negotiate a globally binding agreement to cut carbon emissions, as agreed at last year's meeting in Cape Town, South Africa. –Graham Lloyd, The Australian, 24 November 2012
You need a subscription to read the whole thing. Let's look at the accompanying graphic, which comes from C3 Headlines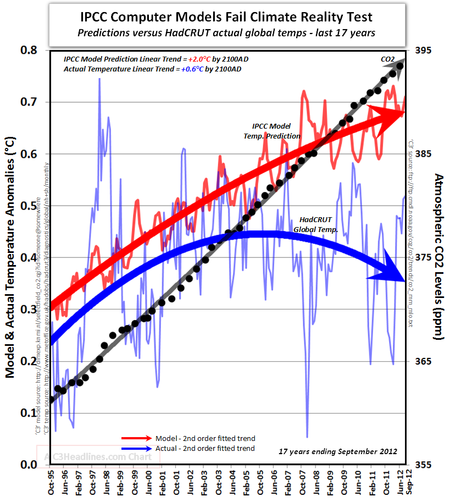 Weird. CO2 keeps going up yet temps aren't. It's almost like there's a natural pattern in play.

If you liked my post, feel free to subscribe to my rss feeds.