Over in Jolly Old England, they look to "respect" one religion while ignoring the rights of other people (via Doug Ross)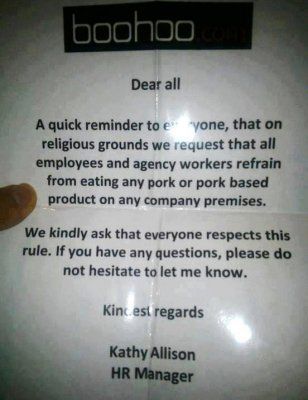 Does anyone think they do this due to any employees of the Jewish faith? Not likely. Rarely do you hear Jews complain. They tolerate. This is simply enforcing Sharia law on employees who aren't Muslim. Possibly out of fear, possibly out of simple dhimmitude.
I wonder when England will ban dogs on the streets?
Oh, and over at Legal Insurrection we learn about a kerfuffle over Israeli food at Harvard.
More: The Daley Gator points out some pre-Christmas dhimmitude in Belgium with an "electronic winter tree"

If you liked my post, feel free to subscribe to my rss feeds.