Much like liberals, Islamists are very much into "tolerance" (via Jihad Watch)
(Telegraph) Thousands of Muslims have pledged a series of protests against Google HQ for a "hateful and offensive" anti-Islam video, saying they now live in an "age of mockery".

A protest by 10,000 Muslims outside the offices of Google in London today is just the first in an orchestrated attempt to force the company to remove an anti-Islamic film from website YouTube in Britain (snip)

Organiser Masoud Alam said: "Our next protest will be at the offices of Google and YouTube across the world. We are looking to ban this film.

"This is not freedom of expression, there is a limit for that. This insult of the Prophet will not be allowed.

"Until it is banned we will keep protesting," he added.
Here we go
Barricades were erected in front of Google's headquarters and a crowd bearing placards with the words "We love our prophet more than our lives" and "Prophet Muhammad is the founder of freedom of speech" had amassed by lunchtime.
As Robert Spenser points out "Who says there is no humor in Islam?"
Oh, and the protesters are saying that 1.6 billion Muslims have been terrorized by the video. Snort. Oh, BTW, below the fold is a picture from a protest in front of the US embassy in London in mid-September…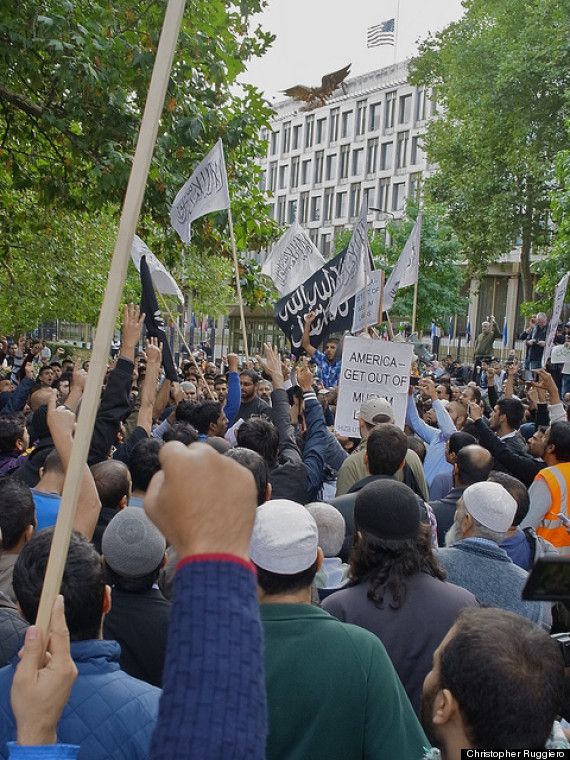 Notice all the Salafist flags, similar to the ones carried by al Qaeda and The Taliban.

If you liked my post, feel free to subscribe to my rss feeds.