We already know about the protest in Sydney went: signs about beheading those who insult Islam showing up, held by a young child. Interesting, this also showed up in Sydney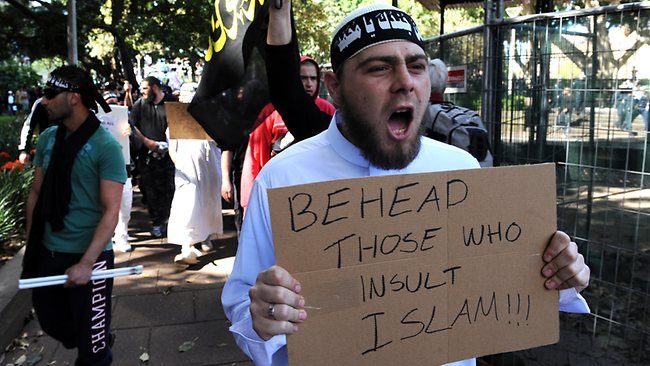 Yeah, he has the "behead" sign. Notice the headband, though. And the flag behind him. And the headband on the guy to the left. Seem familiar?
Let's head to Belgium (sorry about the Press TV link, being owned by the Iranian government. Only source with a photo)
Nearly 120 people have been arrested in the Belgian city of Antwerp after clashes broke out between the police and protesters demonstrating against an anti-Islamic film made in the United States.

On Saturday, protesters in Antwerp were chanting slogans against the United States and burned a US flag before the clashes broke out.
Hey, what's this?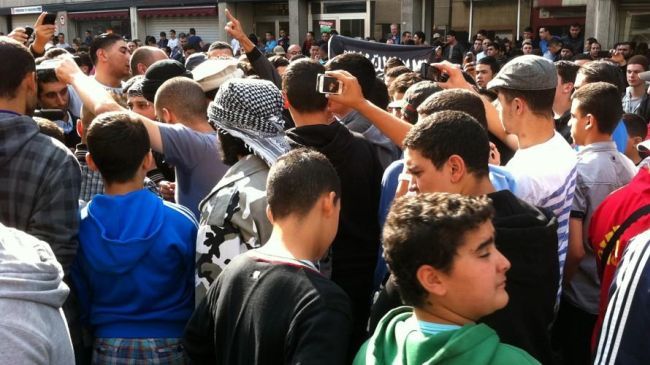 Interesting. Not too surprised by the Palestinian Keffiyeh showing  up, but, check the flag in the background.
In the top picture, that is the flag of al Qaeda in Iraq. The other flags are and headbands in both pictures are similar to those flown and worn by al Qaeda, proclaiming "there is no God but Allah, and Mohammed is his prophet". Isn't it strange how this supposed "grassroots" and "spontaneous" demonstration, starting coincidentally on September 11th, sees so many carrying and wearing al Qaeda style (and specific al Qaeda) flags and headbands in Sydney and Antwerp? As well as throughout so many parts of the world where demonstrations were held? In Amsterdam it looks like they are hold a Taliban style banner (Taliban uses black letters on white background) Either this was planned, or there are a lot of Muslims who purchase al Qaeda style flags and headbands. Or both.
Meanwhile, Professor Glenn Reynolds says Obama should resign immediately for directly violating the Presidential Oath of Office.

If you liked my post, feel free to subscribe to my rss feeds.