We've all been waiting with bated breath!
(Treehugger) Searching for the perfect swimwear can be a headache in and of itself. Add eco cred to the mix and it's a migraine.

Fortunately, we've done the work for you, and the result is a sizzling mix of the hottest sustainable swimsuits on the market.

From sultry pin-up girl style full-coverage to a saucy double frill bikini to a rocker-style Ramon's-themed suit you can DIY yourself, our fourth-annual TreeHugger Swimsuit issue is overflowing with bikinis and one-pieces that will have you planning your next beach-side activity now.
Yeah, but going to the beach is bad for Gaia. First, one has to get in the fossil fueled vehicle to get there. And walking on the beaches messes up nature. And, don't get me started on suntan oil, many of which are decidedly non-environmentally friendly, and can even leave an oily sheen on the water and despoil the sand!
Interestingly, after taking one for the team and researching all the bikini's (yes, I'm selfless), it doesn't seem like most of the companies are really interested in environmental concerns. Consider the first picture
First up: a sexy and sultry Le Chic Keyhole bikini from Vitamin A by Amahlia Stevens. Made in the USA with 100% recycled nylon fiber, this barely-there suit is not for the body shy. (Le Chic Keyhole String Halter Top, $88; Le Chic Keyhole Tie Side Bottom, $88)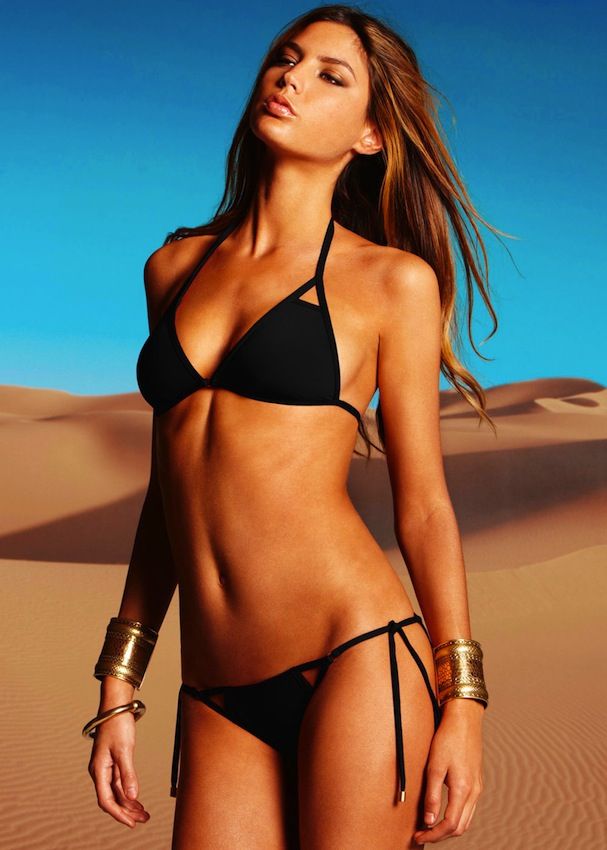 I can't find anywhere on the Vitamin A's website any notion about the bikini being….you're not reading this yet, are you?….environmentally awesome. In fact, the top is made from 83% nylon, which is made from "petrochemicals, these synthetics are non-biodegradable as well, so they are inherently unsustainable on two counts. Nylon manufacture creates nitrous oxide, a greenhouse gas 310 times more potent than carbon dioxide." The other 17% is spandex, which can also bad for the environment, depending upon the manufacturer.
Honestly, most of the other bikini photos are, well, boring. And, most of the suits are not environmentally friendly, even if the companies are using recycled materials, and "donating" to environmental causes.
The most eco-friendly materials are cotton, bamboo, and soy. You can also use hemp. Here are 3 sites that provide some examples. And, yes, I am serious. Nothing wrong with being environmentally friendly when you can.

If you liked my post, feel free to subscribe to my rss feeds.