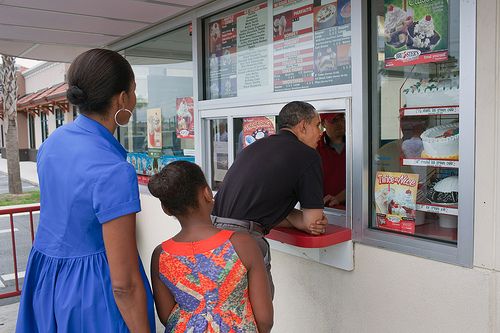 I thought about doing a little photoshop, putting in a caption with the clerk asking for Obama's papers, but, apparently
President Barack Obama, First Lady Michelle Obama, and daughter Sasha order ice cream at Bruster's in Panama City Beach, Fla., Aug. 15, 2010 (Official White House Photo by Pete Souza)
This official White House photograph is being made available only for publication by news organizations and/or for personal use printing by the subject(s) of the photograph. The photograph may not be manipulated in any way and may not be used in commercial or political materials, advertisements, emails, products, promotions that in any way suggests approval or endorsement of the President, the First Family, or the White House.
Awesome. The official White House Flikr stream, linked on the White House website, pretty much owned by the People of the USA, cannot be used for political materials. I wonder if some gubmint beauroweenie will contact me?

If you liked my post, feel free to subscribe to my rss feeds.