And when it gets hot, it can only be human induced. The absurdity just writes itself, as a new NOAA paper goes all sorts of weird climate alarmist, via Watts Up With That?
Cooler North American temperatures in 2008 resulted from a strong natural effect, and the overall warming trend that has been observed since 1970 is likely to resume, according to university and NOAA scientists.

"Our work shows that there can be cold periods, but that does not mean the end of global warming. The recent coolness was caused by transitory natural factors that temporarily masked the human-caused signal," said Judith Perlwitz, lead author of the study and a researcher with the Cooperative Institute for Research Environmental Sciences, and NOAA Earth System Research Laboratory, both in Boulder, Colo. The paper will be published Dec. 8 in Geophysical Research Letters.
Got that? When it is cool, it is nature, when it is hot, it's mankind. And even the cool masks mankind being evil.
Digging into the paper itself
A precipitous drop in North American temperature in 2008, commingled with a decade-long fall in global mean temperatures, are generating opinions contrary to the inferences drawn from the science of climate change.We use an extensive suite of model simulations and appraise factors contributing to 2008 temperature conditions over North America. We demonstrate that the anthropogenic impact in 2008 was to warm the region's temperatures, but that it was overwhelmed by a particularly strong bout of naturally induced cooling resulting from the continent's sensitivity to widespread coolness of the tropical and northeastern Pacific sea surface temperatures. The implication is that the pace of North American warming is likely to resume in coming years, and that climate is unlikely embarking upon a prolonged cooling. Citation: Perlwitz, J., M. Hoerling, J. Eischeid, T. Xu, and A. Kumar (2009), A strong bout of natural cooling in 2008, Geophys. Res. Lett., 36, L23706, doi:10.1029/2009GL041188.
First of all, computer models. Not actual research, but, models. Garbage in/garbage out. Second of all, ROTLFOL! What a pant load.
I don't have an issue with continued warming, it could happen, it might not. I do have an issue with this whole bullshit notion that all warming is man caused, but, cooling is natural (and covering up the man induced warming.)
"North American temperatures would have been considerably colder in 2008 had there been no human-induced warming influence present," Perlwitz said.

The scientists conclude that the North American temperatures are likely to resume increasing again, and do not see the recent coolness as an emerging downward trend.

"Our work shows the importance of the role of natural climate variability in temporarily masking or enhancing human-induced climate change. Through diagnosis, we ensure that natural changes, when occurring, are not misunderstood to mean that climate change is either not happening or is happening more intensely than the expected human influence," said Arun Kumar, a NOAA meteorologist and co-author.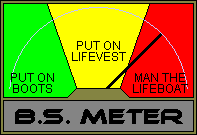 If you liked my post, feel free to subscribe to my rss feeds.