Without preamble
ST. PETERSBURG — Jennifer Stone-Anderson says her 2004 Saturn Ion became a work of art this fall when she covered it with elaborate paintings supporting Barack Obama.

But Chrysler, which financed the purchase, maintains that it's just a car. And that Stone-Anderson has been missing payments. And that her work of "art" is about to be repossessed.

Stone-Anderson's unemployment was the root of the art, but her lack of work may also bring the loss of it. In May she gained free time when she was laid off from Rainbow Art and Design in Tampa, so she started painting her car with leftover acrylics.
Photo goodness below the jump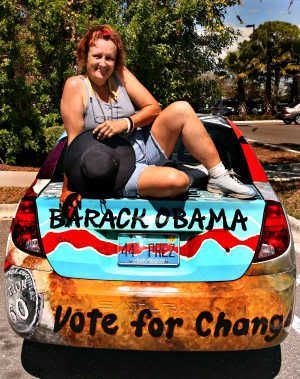 I wonder if The One will pay off her car loan?

If you liked my post, feel free to subscribe to my rss feeds.