Here's Obama's Dow since the passage of the "stimulus" bill (via Insty)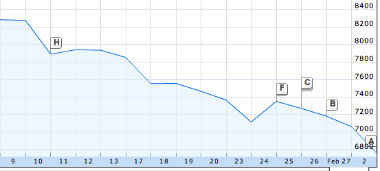 And while that has been going on
Since the presidency changed hands less than six weeks ago, a burst of entertaining has taken hold of the iconic, white-columned home of America's head of state. Much of it comes on Wednesdays.

The stately East Room, where portraits of George and Martha Washington adorn the walls, was transformed into a concert hall as President Barack Obama presented Stevie Wonder with the nation's highest award for pop music on Wednesday.

A week before that, the foot-stomping sounds of Sweet Honey in the Rock, a female a cappella group, filled the East Room for a Black History Month program first lady Michelle Obama held for nearly 200 sixth- and seventh-graders from around the city.

Cocktails were sipped during at least three such receptions to date, all held on Wednesdays.

Bookending the midweek activity were a Super Bowl party for select Democratic and Republican lawmakers and a dinner for governors, the new administration's first black-tie affair. It was capped with a performance by the 1970s pop group Earth, Wind and Fire. And a conga line.

The flurry of entertaining is in keeping with the Obamas' promise to make the White House a more open place for everyone.
So, while everyone else is cutting back, learning to live with this recession that Obama and the Democrats now own solely (except for 3 squishy Senate Republicans,) Obama is partying it up, and, as Gay Patriot points out
President Obama, cheered on by his minions in the press, has been railing against corporate excess since before he even took office. These rich folk, he'd have us believe, are living high on the hog, gilding the lily at our expense. Well, guess whose salary, room-and-board, and all entertainment expenses literally are at our expense, and guess how he's been living.
Why is Obama starting to remind me of the Communist dictators who lived high on the hog while their nations imploded?

If you liked my post, feel free to subscribe to my rss feeds.