I made the unfortunate mistake of renting Dragon Wars. Wow! Bad! Really bad! How can someone screw up a movie about dragons? You would think it would be easy to make a good one. Nope. Terrible, simply terrible. Save your $4.50 plus tax to rent it.
This got me thinking, for some reason, about the best and worst vampire movies. Another type of movie that no one should be able to screw up. But, alas, some do.
Top 10 Vampire Movies (in no order)
Underworld (worth it for Kate Beckinsale in tight leather. Great movie, too)
Dracula (Bela Lugosi)
Dracula (1979 – with Frank Langella)
Bram Stoker's Dracula (the one with cutie Winona Ryder)
Nosferatu (1922 – where it all really started with movies)
Blade: Trinity (yes, the other 2 are pretty darn good, but this one was tops, particularly with hottie Jessica Beil)
Van Helsing (again, Kate Beckinsale. Add Dracula, the Frankenstein Monster, and werewolves. Very watchable)
Abbott and Costello Meet Frankenstein (Wolfman, The Monster, and Dracula. Lon Cheney. Bela Lugosi. All in a funny manner)
Love at First Bite (oh, come on, it was a very different, and humorous, look at Dracula)
Vampire Hunter D (Manga meets vampires)
Honorable mention: The Lost Boys, the first 2 Blade movies, Innocent Blood, Bordello of Blood, Fright Night, Blacula, Underword: Evolution, and The Return of Dracula (Lugosi).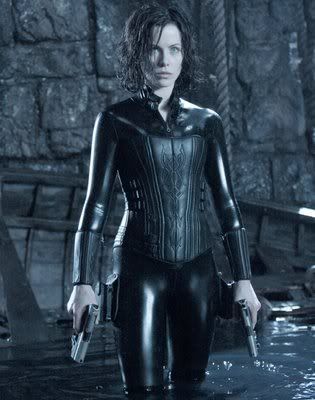 Snarkarati has an interesting list. I'd put a bunch of the movies on the honorable mention list, though, I disagree with some, hence, 10 Worst Vampire films (again, no order)
From Dawn To Dusk (violence for violence sake. Bad language out the ying yang for no reason. And 2 bad sequals)
Blood Rayne (even a naked Kristanna Loken doesn't elevate it. And don't even get me started on the sequel)
Dracula 3000 (bad. Really bad. Even with babe Erika Elaniak it was horrible)
Queen of the Damned (stupid)
Interview with the Vampire (tedious. Worse then the book, which I slogged thru to see what the big deal was)
Dracula – Dead and Loving It (how can Mel Brooks screw up a vampire movie with Leslie Nielsen in it? He found a way)
Fright Night II (the first was good, the second, an abomination)
The Night Flier (screwed up a good vampire story by Stephen King)
Salems Lot (again, hosing a great Stephen King story)
Dracula 2000 (yikers!)
What's your favorite vampire movie?
Trackposted to Outside the Beltway, Blog @ MoreWhat.com, Rosemary's Thoughts, 123beta, Adam's Blog, Shadowscope, Big Dog's Weblog, Leaning Straight Up, Pursuing Holiness, Adeline and Hazel, third world county, Stix, The Crazy Rants of Samantha Burns, The World According to Carl, Global American Discourse, The Pink Flamingo, CORSARI D'ITALIA, and Right Voices, thanks to Linkfest Haven Deluxe.

If you liked my post, feel free to subscribe to my rss feeds.