Happy Friday to all! It's that time of the week again! Do you have an interesting post you want to share with everyone? The official Surrender Monkey of the Democratic Party says to do what the Lefties don't, since they all have the same talking points: link it!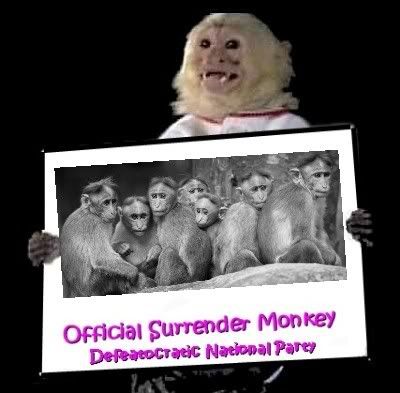 I'd say you are not going to believe the language in this "story," but, hey, it is the NY Times, and the Grey Lady monkeys are pleased with themselves
Last December, when the Marine Corps charged four infantrymen with killing Iraqi civilians in Haditha, Iraq, in 2005, the allegation was as dark as it was devastating: after a roadside bomb had killed their buddy, a group of marines rampaged through nearby homes, massacring 24 innocent people.
Really? I guess the justice system is seeing it differently, since three Marines have been absolved of any crime, and for a fourth, it has been recommended that charges be dropped.
In Iraq and in the United States, the killings were viewed as cold-blooded vengeance. After a perfunctory military investigation, Haditha was brushed aside, but once the details were disclosed, the killings became an ugly symbol of a difficult, demoralizing war. After a fuller investigation, the Marines promised to punish the guilty.
Don't forget, the Left supports our cold blooded, murderous troops.
But now, the prosecutions have faltered. Since May, charges against two infantrymen and a Marine officer have been dismissed, and dismissal has been recommended for murder charges against a third infantryman. Prosecutors were not able to prove even that the killings violated the American military code of justice.
Could it be because no crime was committed? Times employees say "damnit!"
Regardless of what happened to charges against the other defendants, there is still great public pressure on the Marine Corps to investigate and punish any wrongdoing in a case in which so many civilians died.

"We can't say those guys didn't commit a crime," said Michael F. Noone Jr., a retired Air Force lawyer and law professor at Catholic University of America. "We can only say that after an investigation, there was not sufficient evidence to prosecute."
But we can certainly insinuate that there was a crime. Ya know, in my America, a person is innocent till proven guilty. Apparently, not in Liberal World, though. Especially if you are a republican or in the military.
In related news, Hot Air has an article up about yet another Marine who is suing Jack "They are all guilty" Murtha.

Send a trackback to this post, but don't forget to link it. Otherwise, monkeys may poop in your shoes.

If you liked my post, feel free to subscribe to my rss feeds.