And a Happy Monday to all. Harry Reid has said all is lost, so it is time to take it down a notch, get in the wrong frame of mind for the work week, be prepared to do your least and worst, or at least your bare minimum.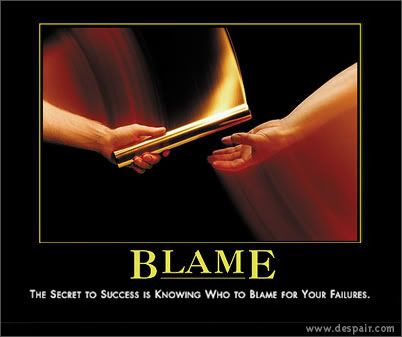 Yes, it is time for blame, something Democrats are perfect at. It is always the other guys fault. Except, of course, for the United States, which they always blame first. But, I digress. The Dems have been playing their "blame the rich" game for quite awhile now, and doing all they can to make the economy sound like buffalo chips. And who can help the people as they become more upset?
(CNSNews.com) – Americans are more anxious about their economic security and are calling for government action, according to a Democratic pollster who says that situation bodes well for the Democratic Party.

Speaking at a briefing sponsored by the Brookings Institution in Washington, D.C., pollster Celinda Lake said Americans are "angry and anxious" about their economic security and few have achieved the "American dream."

According to a recent nationwide survey of 800 non-supervisory workers, Lake said the "cornerstones of the American dream" in the view of those surveyed are wages that support a family, affordable quality healthcare, opportunities for their children, respect for hard work, and retirement security.

"Workers are increasingly pessimistic about achieving the American dream," she said. "Only 18 percent of Americans believe they have achieved the American dream."
What they have created is an ugly little loop. Democrats complain about the economy, scaring and demoralizing people, who then ask the government to fix it and pay for it, which is exactly what Democrats want to happen, so they complain more, and so on. And the help that Democrats always seem to want to offer are negatives: restriction and ultimatums on businesses, jacking up the minimum wage, more unionization, more handouts. All are about blame on others.
Positives are typically left out of the mix. Things like going and getting an education, learning to write and speak in literate Adult, working hard, spending wisely, learning to invest, not spending all night partying and coming in late and hungover, stop having children so young when you cannot afford them and do not have the time, don't tattoo yourself, get all sorts of body piercings, and expect to get a good job, and learning to dress yourself. Also, that little thing called personal responsibility. That is a hard concept for liberals to understand.
Those are all things they should be teaching in government schools, rather then their silly socialist agenda, all the feel good claptrap. I see kids coming in for jobs, and they cannot even dress themselves. Every time I am part of a mass interview day, I tend to dismiss at least one or two for being improperly dressed for a professional position. And could dismiss even more. I relegate resumes to the "forget it" file en mass because of grammar and misspellings, including failure to capitalize their own names! How sad is that?
The NY Times, on the front page, also takes a stab at the "government should fix the economy" position, with the Democrats in prime position to pander to people. They fail to mention what high taxes and government intervention do to the "American Dream." Democrats love polls, love taking advantage of them, seeing which way the wind is blowing, and any one that says people want more government and socialism gives them orgasmic delight.
Now, government can, and should, help. However, they should do it in a way as to empower people, not make them them dependent.

Send a trackback to this post, but don't forget to link it.

If you liked my post, feel free to subscribe to my rss feeds.